South Shore Cultural Center Hosts African American Business Expo
City of Chicago Small Business Center's on the Road series held an African-American Small Business Expo
Lee Edwards | 7/23/2014, 3:43 p.m.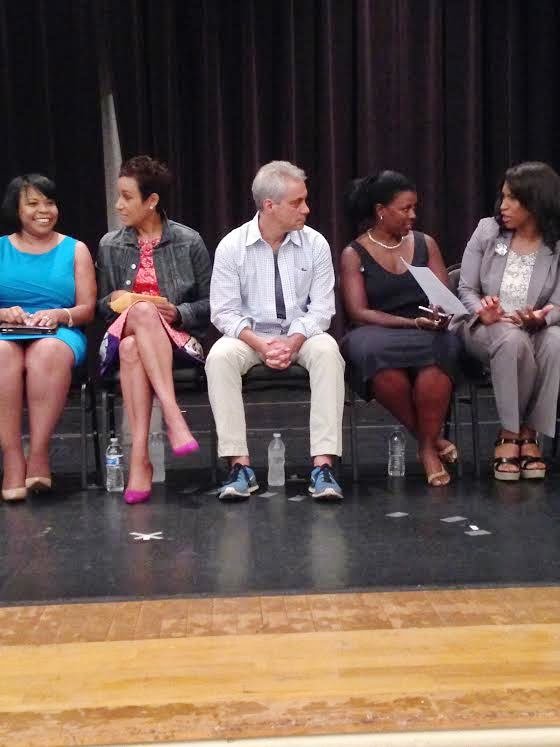 Over the weekend, the City of Chicago Small Business Center's on the Road series held an African-American Small Business Expo at the South Shore Cultural Center, 7059 S. South Shore Dr., that featured keynote speaker, Desiree Rogers, CEO of Johnson Publishing Company and former White House Social Secretary. This year marks the second year of the series, the first African-American Small Business Expo, and the third of five scheduled expos for this year.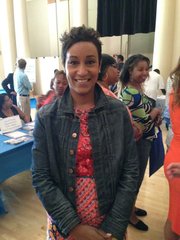 "The whole goal here [at the African-American Small Business Expo] is to level the playing field…every effort is to level the playing field so you actually have a fair shot working here in the city of Chicago," said Chicago Mayor Rahm Emanuel in his address to the Expo audience. "Everyone's goal is to make sure that your dream as an entrepreneur, whether you want to grow the business or start the business, you know that City Hall is behind you rather than in front of you trying to stop you."
"As the CEO of an iconic African-American business based in the City of Chicago, I strongly support opportunities where we can all collectively convene, network and discuss ways we can leverage each other," said Rogers. "The City of Chicago recognizes the importance of supporting small, African-American businesses and we are happy to host this group in our great city."
When asked by the Chicago Citizen Newspaper about how she felt about being the Expo's esteemed keynote speaker, Rogers stated, "It's humbling; hopefully [we can] inspire some people to do some fabulous work," said Rogers right before going on the stage.
"The goal of the program is to bring the services and resources that are available to small businesses into the community to level the playing field of access for information and resources who don't have the ability to leave their business during business hours," said Roxanne Nava, Chief Small Business Officer for the City of Chicago. "It's the City's way of leverage all the resources and all the networks to really roll out the red carpet for small business because these are services that would cost a business owner time and money to get and here they're all available for free
The Expo, which was free and lasted roughly three hours, included a one-on-one free tax clinic, and boasted over 40 information stations for entrepreneurs to peruse. Representatives from the City of Chicago, State of Illinois and Federal Government were also on hand to answer business related questions.
Abraham David Lacy, of the Far South Community Development Corporation, moderated a panel discussion during the event called "Microlending: A Great Tool for Business Growth and Development." Panelists included First Deputy Procurement Officer Richard Butler of City of Chicago Department of Procurement Services; Melinda Kelly, Executive Director, Chatham Business Association (CBA); Teyonda Wertz, Executive Director, South Shore Chamber, Inc.; Gus Issacson, Executive Director, Central Lakeview Merchants; Arthur Williams, Jr., Investment Portfolio Manager, Illinois Department and Economic Opportunity (IDEO); and Adrian Soto, Executive Director, Eighteenth Street Development Corp.
"Anytime black businesses and information come together we have to come out," said Revin Fellows, a representative for the North Lawndale Black Chamber of Commerce. "We are here to get information for our chamber to sustain and give technical assistance to our businesses; this is a great event."
The City of Chicago's Office of New Americans (ONA) and the Department of Business Affairs & Consumer Protection (BACP) plans to continue the series of expos throughout the year. The events are sponsored by Western Union, are free and open to the public and will offer business education, resources on financing, licensing process, tax laws and provide an opportunity to network with important stakeholders in the community.
For more information about the expo series, visit www.cityofchicago.org/SBC.