South Side Youth's Path to Innovation and Entrepreneurship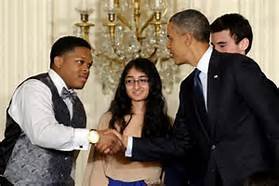 There's no shortage of news about African American youth who take the wrong path in life. Here's a story however, that highlights an African American youth who started down the wrong path but changed his course and is now an entrepreneur with a device that soon will be on store shelves as a product that benefits children and their families. It's called the Thermofier.
Anthony Halmon, 19, a young entrepreneur who grew up in the Auburn Gresham and Englewood neighborhoods, faced the challenges of street gang involvement and failing grades. But he turned things around following the death of his father and the birth of his daughter in 2010. He's now enjoying a full-ride scholarship at Cornell University—an opportunity afforded to him by way of his creativity and ingenuity.
Halmon shares his story as a way to inspire others.

"I looked at what I was doing and knew I had to make a change," said Halmon, a freshman at Cornell.
After making the decision to move in a different direction, Halmon's mother, Betty Gatmin, who currently resides in Englewood, said her son took the initiative, switched schools and enrolled in Perspectives Leadership Academy, a charter high school on Chicago's South Side that set him on his path to becoming an innovative, forward thinker. It's also when he developed the Thermofier, a pacifier with a built-in thermometer, described as an improvement over existing models already on the market.
During his junior year at Perspectives, Halmon became involved with Network for Teaching Entrepreneurship (NFTE), a program supported through Microsoft's YouthSpark, organizations which had a significant impact on him.
Founded in New York City in 1987 by Steve Mariotti, a former entrepreneur turned high school math teacher in the South Bronx, NFTE began as a program to prevent dropouts and improve academic performance among students, inspire young people from low-income communities to stay in school, recognize business opportunities and plan for successful futures.
Through joint NFTE Chicago nominations, the young entrepreneur and father of a three-year old daughter was awarded a $20,000, four-year, NFTE Higher Education Scholarship to Cornell where he's pursuing a civil engineering degree.
"As part of the entrepreneurship class, we had to create a business that would benefit someone. I was having difficulty coming up with an idea and so an instructor at Perspectives asked me about my daughter. I told him she gets sick when the seasons change and that she prefers her pacifier over everything else."
With his daughter in mind, Halmon designed his Thermofier, a device that earned him a spot at the White House (Annual) Science Fair last April, where he met President Barack Obama.

"I sat on stage and shook hands with him," Halmon said "He (President Obama) talked about how youth today are the new faces of science…that sparked something in me and by May I had a prototype that Ms. (Mary) Hernandez, (his YouthSpark mentor) helped me with it. They taught me how to create something from nothing. I learned that I can create my own opportunities by staying focused and being confident as a young innovator. I no longer wait on opportunities, I seek them."