28th Annual Interfaith Celebration, Honors Rev. Dr. Martin Luther King, Jr.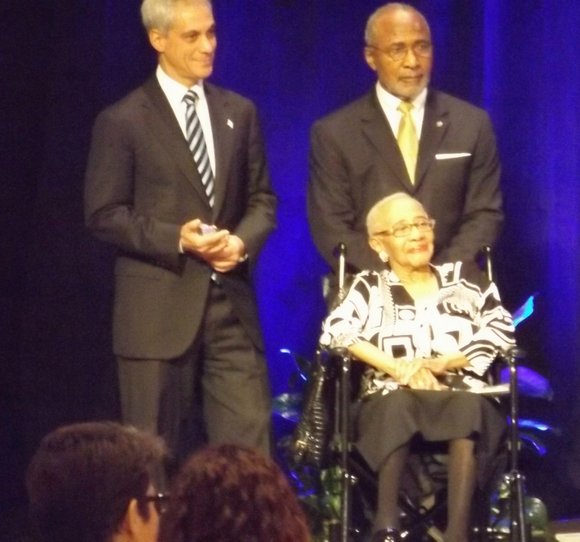 Mayor Rahm Emanuel, Chicago's local church community and various elected officials paid homage to Rev., Dr. Martin Luther King, Jr. during the City of Chicago's 28th Annual Interfaith Breakfast where women of the Civil Rights movement were also recognized.
"There is more to the Civil Rights Movement, than the right to enter the voting booth," said Emanuel as he addressed the audience. "It is also the right to enter the middle class; it's about equal justice and equal opportunity."
Referencing the hotel's wait staff as they served the breakfast and cleared tables, Mayor Emanuel said the focus going forward has to be economic justice to expand the middle class.
"We must in my view make sure those who work are not living in poverty and do not raise their children in poverty. If you work, your children should not be growing up in poverty," Emanuel said.
Emanuel paid special homage to Rev., Dr. Willie Taplin Barrow, known as "The Little Warrior" due to her lifelong commitment to the Civil Rights Movement. Barrow was honored with the 2014 Champion of Freedom Award.
Barrow, 89, worked closely with Dr. King as a field organizer, and spent her life at the forefront of the Civil Rights Movement. Barrow helped organize Operation Breadbasket, known later as Operation PUSH and continues her work as a social activist and spiritual leader and is currently the co-chair of the Chicago-based RAINBOW/PUSH Coalition which was founded by the Rev. Jesse Jackson, Sr.
"This is an incredible moment to be honored by you Mayor…it means so much to me because you are honoring the work I've done in my entire life; work that Dr. King and I started 40 years ago," said Barrow during her acceptance speech. I thank you and am grateful you chose me for this award now at 89 years of age and I'm still working."
U.S. Sen. Dick Durbin (D-IL) also saluted Rev. Barrow saying, "We reflect today on the assassination of one of America's greatest leaders but we ought to pause and reflect for one moment and ask a very basic question: Why was Dr. Martin Luther King in Memphis, Tenn.? He was there because of the garbage haulers because they were not receiving fair wages. He was willing to go down and fight and ultimately died for that issue of justice.
Ill. Governor Pat Quinn also made remarks honoring Dr. King.
"I want to echo how important it is when we're carrying out the legacy of Dr. King, that we not forget economic justice," Quinn said adding that Illinois' current minimum wage of $8.25 is too low and should be raised.
Renowned author, educator and historian, Dr. Mary Frances Berry, who is currently a history professor at the University of Pennsylvania, served as keynote speaker.
"I was thinking about Martin Luther King, a few weeks ago when I was speaking at the Commemoration of Nelson Mandela," said Berry.
Berry said though we saw Mandela age, Martin is frozen in time.
"He would be 85 this year. Slain, frozen in time by assassins. Every year at this time, I miss him very much. I miss his marvelous pronouncements," Berry said of King. I have tried to live all my life in his spirit and that of the people in the movement and he's been with me everywhere I go. I think about how this time of year we are called to figure out how to make the change that he wanted and about all those people who were abused, assaulted and went to jail and some of them died."
Berry paid homage to the women of the Civil Rights Movements such as Dorothy Height, Fannie Lou Hamer and Rosa Parks.
"We've come a long way. There has been change at the micro level and Obama's election and reelection is one symbol of that change. Where do we go from here, what do we do? That is what Martin would say.
Berry also acknowledged Dr. Barrow and congratulated her telling her to continue working.