U of C Crime Lab Awarded $1 Million MacArthur Foundation Grant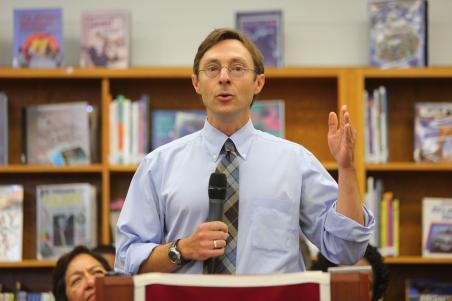 The University of Chicago made national headlines last week as the recipient of a $1 million John D. and Catherine T. MacArthur Foundation grant that was awarded to its Crime Lab; one of seven nonprofit organizations around the world to receive the MacArthur Award for Creative and Effective Institutions.
"We launched the Crime Lab in 2008 to work in close partnership with non-profits and municipal agencies on the front lines of these issues in order to begin to co-produce the scientific evidence necessary to help guide policy and practice," said Crime Lab Director, Jens Ludwig, McCormick Foundation Professor of Social Service Administration, Law, and Public Policy at the University of Chicago. "This generous support from MacArthur will allow us to be more nimble in seizing project opportunities that require a rapid response and allow us to explore innovative research projects and gather evidence about their effectiveness."
The Crime Lab is being recognized in part because it has already produced results with its "gold standard" research techniques and found that targeted tutoring and mentoring programs can help improve school outcomes and reduce violence among high school students.
To qualify for the award, organizations must demonstrate exceptional creativity and effectiveness; have reached a critical or strategic point in their development; show strong leadership and stable financial management; previously received MacArthur support; and engage in work central to one of MacArthur Foundation's core programs.
The Crime Lab's B.A.M. (Becoming a Man) at-risk youth program has been engaging students on Chicago's South Side.
Hyde Park Career Academy, students involved with B.A.M. spent Father's Day last year with President Barack Obama and lunched with him in the White House East Room, where the President discussed the importance of fatherhood and mentorship.
The president also spent time in Chicago with young men in the B.A.M. program where he spoke with them about the importance of education.
In a private setting at the school, before speaking with a much larger invitation-only audience who gathered in the school's auditorium that Friday afternoon in Feb., the president spoke with the young men.
James Adams, 18, a Hyde Park Career Academy student described the meeting last year saying, "About 17 of us guys were sitting in a circle and we were talking and sharing our thoughts and feelings about how we are emotionally, physically and intellectually. He walked around and shook all of our hands. He spoke to us about gun violence and said there are other things to do instead of using guns to solve our problems."
The Crime Lab partners with government agencies in Chicago and around the country to provide scientific evidence about the effectiveness of strategies to reduce crime and violence.
One of Crime Lab's main activities is the design and coordination of randomized trials that are standard in medicine but remain rare in the public policy area. The Crime Lab is a leader in using that method along with benefit-cost analysis and behavioral science, as a way to help reduce the social harms that crime imposes on society.
"Our scholars continue to show that new ideas and outstanding research can make a positive
Impact, in the world," said University of Chicago President Robert J. Zimmer.
The Crime Lab plans to use the award for new projects and a small portion towards forming an operating reserve.
"Our work is motivated by the idea that it is not a lack of innovation, good ideas or hard work that has hindered long-term progress on urban crime and violence and the related problem of school dropout, but rather it is a lack of rigorous scientific evidence about what works, for whom and why," said Crime Ludwig.