Sixth Ward Seniors and African American History
Lee Edwards | 2/19/2014, 3:36 p.m.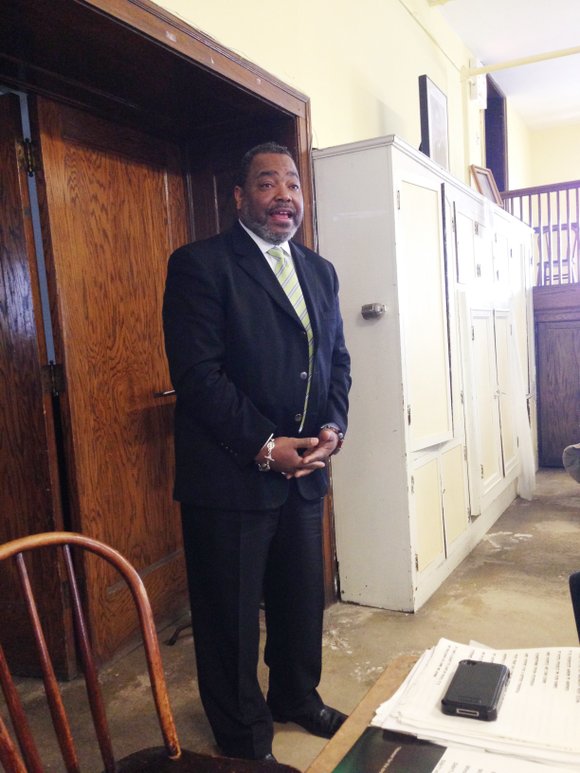 At the monthly 6th Ward Seniors' meeting at St. Mark AME Zion Church, 7358 S. Cottage Grove Ave. last week, participants enjoyed a "Black History Presentation" by Ronald "Kwesi" Harris. The event was sponsored and attended by 6th Ward Alderman Roderick Sawyer who hosts meetings with his ward's senior citizens every second Thursday of the month.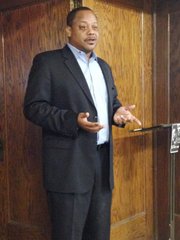 In honor of Black History Month, the focus of the presentation was the importance of the elders in the African American community and the relevance of African culture as it relates to society today.
"I look at it as an opportunity to be among seniors, elders, who are the repository of our rich history and heritage and so for me I see it as a double blessing," said Kwesi Harris, Director of the African American Resource Center at Chicago State University. "I'm just getting a double dose of being around living wisdom, living history. I'm a lover of our people and I believe we have something worthy of being respected, something that we must protect, never neglect, and that is telling our stories."

One of the several questions Harris asked of the audience is, "what are the four most powerful words on the planet?" Harris states they are, "tell me a story", because at that moment he explains, "you've empowered someone to be the originator of the narrative or a contributor to the narrative; you get the richness and beauty of black folk telling stories, not lies, but stories."


Harris also emphasized the value that African Americans should place on: respecting their elders, African American women, uplifting one another and the roles of men.
Alderman Sawyer praised Harris' discussion as did others who attended the meeting.

"Kwesi is a dynamic speaker and I always appreciate him," said Sawyer. We were looking for someone who is dynamic, that would really get the people charged up, and Kwesi is the guy. We wanted to give the seniors a chance to come out and get information,"
"[Kwesi] really reminded us that we are people connected to a land, that land is Africa, that is our identity, all people are connected to a land," said Sylvia Jo Oglesby, a frequent meeting attendee. "We are African people and we're free people. We need to know that history and share that with our family, our children and our grandchildren and the importance of knowing their identity."
Alderman Sawyer previewed upcoming meetings stating, "We're going to have some issue oriented topics. We have a couple of things going on in the community that we're going to be addressing; the methadone clinic, the expansion in the library, we're going to have community meetings about that and we have a variety of issues that are going to be coming down the road."
For more information about sixth ward activities visit http://www.6thwardchicago.com/.