HIV/AIDS & Transgender Discussion Held at Chicago State University
Lee Edwards | 2/12/2014, 11:16 a.m.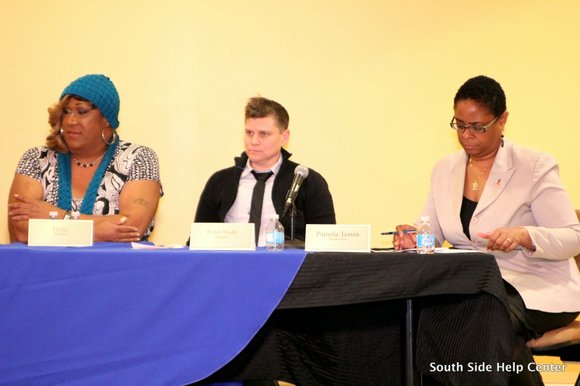 In tribute to National Black HIV Awareness Day (February 7), the South Side Help Center (SSHC) last week presented the seX Factor: A Dialogue on HIV Prevention and Care on Chicago State University's (CSU) campus, 9501 S. King Drive, being the school's third year hosting the event.
National Black HIV Awareness Day focuses on the education, testing, treatment, and activity associated with HIV.
The presentation was broken into two sessions, the first featuring keynote speaker Dr. Margo Bell, Senior Attending physician of the Division of Adolescent and Young Adult Medicine and Chicago HIV Risk Reduction Partnership for Youth (CHRRPY).

Dr. Bell spoke candidly during her presentation about her own methods in working with transgender people. "In starting to take care of transgender patients one of the things that I had to do was self-reflect to understand why it would be important for me to take of these patients," said Dr. Bell.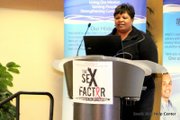 Dr. Bell also discussed (as it relates to being transgender) gender roles, social stigmas, the importance of hormone therapy, and HIV transmission prevention.
The second session featured an expert panel including Vickie, Board Chair Community Advisory Board, Chicago House, TransLife Center; Bonn Wade, Director, TransLife Center, Chicago House; Channyn Lynne Parker, TransLinkage 2 Care Coordinator, Chicago House; Tonya Channel; Beverly Ross; Dr. Bell and Ms. Tassin who was the panel moderator.

The panel took questions from both a social media audience via Twitter and from the live audience in attendance.

The Chicago Citizen Newspaper asked one transgender panel member named Vickie about coming "out" as a transgender person.
"For me, when I was coming out it was much harder," said Vickie. "I think the girls would agree to that. We're the girls that paved the way so that these girls can walk around and be who they are now because we took the beatings and the sticks and the bats and everything. I'm glad I am able to be who I am today. It's not easy but this is the only life I have and I'm going to live it."
The SSHC is an African American owned and operated agency that has served the community for over 25 years. The SSHC's primary objectives are provide comprehensive community social services.
"South Side Help Center's Building and Nurturing Communities of Color is a capacity building program funded by the Centers of Diseases Control and Prevention (CDC) through their capacity building brand," said Pamela Tassin, Program Director, Building and Nurturing Communities of Color, South Side Help Center. "With the support of CDC and collaboration with our co-sponsors, SSHC has hosted five national web casts with a different focus each year."
According to Dr. Thomas Lyon, the Director of HIV/AIDS Research and Policy at Chicago State University, CSU and SSHC both have a commitment to educate the community. On hosting the event Dr. Lyon stated, "The [seX Factor] is a dialogue and it talks about an epidemic that we may or may not otherwise hear."
The SSHC received a grant last year from the CDC that provides funding for events like the seX Factor. The SSHC is the only African American agency to be awarded a grant from the CDC designated to provide high impact HIV/AIDS prevention capacity building services to other organizations that serve minorities.
For more information visit http://southsidehelp.org/.