Police: Chokehold victim complicit in own death
12/5/2014, 5:13 p.m.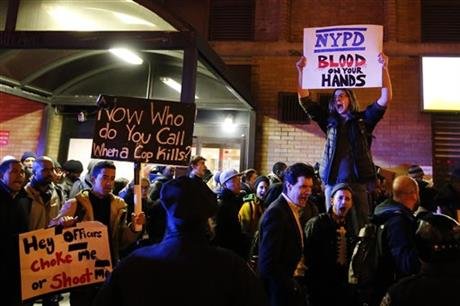 As the video sparked accusations of excessive force, the police unions mounted a counter-narrative: that Garner would still be alive if he had obeyed orders, that his poor health was the main cause of his death and that Pantaleo had used an authorized takedown move — more like a headlock than a chokehold — to subdue him.
While the grand jury proceedings were secret, Pantaleo's lawyer has said that the officer testified that he never tried to choke Garner and did not believe the man was in mortal danger.
Pantaleo's defenders have included Rep. Peter King, R-N.Y., who argued that the grand jury outcome would have been the same if Garner had been white, and that police were right to ignore his pleas that he couldn't breathe.
"The fact that he was able to say it meant he could breathe," said King, the son of a police officer.
"And if you've ever seen anyone locked up, anyone resisting arrest, they're always saying, 'You're breaking my arm, you're killing me, you're breaking my neck.' So if the cops had eased up or let him go at that stage, the whole struggle would have started in again."
By TOM HAYS and COLLEEN LONG