Cusic Family Commands Three Chicago Stages in 'A Christmas Carol' and "If Scrooge Was A Brother"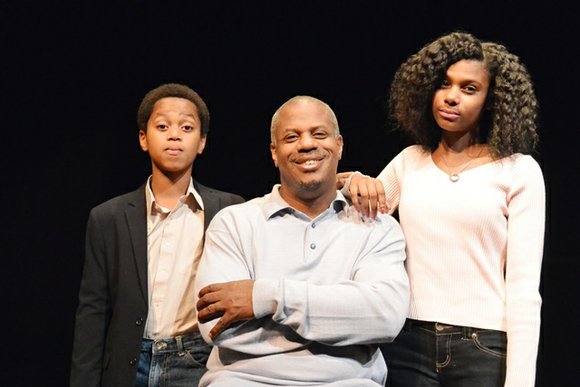 Seldom do parents get to share the spotlight with their children but one lucky family is getting to do just that as they showcase their talents simultaneously on three different stages across Chicago.
"This holiday season is a special one for me and my family as I share the stage with my daughter, Sydney and son, Phillip, both in versions of A Christmas Carol," says proud dad Phillip.
When the curtain goes up Dec. 6th on "If Scrooge Was a Brother," eta Creative Arts Theater Chicago's imagined holiday production of "A Christmas Carol," three members of the Cusic family will take their cues.
While Phillip Cusic, father of the Cusic family, takes on the mean, miserly Marley and the Ghost of Christmas Present in eta's production, his son Phillip Amiri is making his Goodman Theater debut as Peter Cratchit and Ignorance. Meanwhile, daughter Sydney performs as Martha Cratchit, Fran and a charity worker in Brooks College Prep's production of "A Christmas Carol," the well-known Christmas tale of a miserable man's journey from self-hatred to love.

Following a long hiatus from the stage, Phillip Cusic returns to the world of theatre in "If Scrooge Was a Brother." In the 80s while living in Atlanta, Ga. he was cast in leading roles in "The Thief and the Hangman and The Negro Speaks of Rivers." But it was the community that became his stage while there working with families of the murdered and missing children in Atlanta. In Chicago, he was cast in recent productions of "Dreams and The Courtroom" while focusing on strategies to reduce violence and promote community development.
His daughter Sydney, the elder of the Cusic children at 15, is following in dad's footsteps and has already built a pretty impressive resume. Since making her professional theater debut in the 12-member children's chorus of "Joseph and the Amazing Technicolor Dreamcoat" at the Paramount Theatre in Aurora, she also been in an award-winning short film called "A Million Miles Away" by University of Illinois at Chicago, professor, Jennifer Reeder, played Beneatha in the school's production of "A Raisin in the Sun," and appeared in Brooks College Prep's production of "Alice in Wonderland." Sydney also sings in her school choir, is a member of the A cappella club and the drama club, runs track for the Chicago Track club and was manager of the junior varsity volleyball team.
Not to be outdone, at 11 years of age, Phillip Amiri, is making his Goodman Theatre debut in "A Christmas Carol." Phillip appeared in the Provision Theater's production of "The Best Christmas Pageant Ever" and in "Pinocchio." He has performed at New Life Christian Ministries, Kwame Nkrumah Academy, the William Leonard Players and I'm Your Puppet Productions. Phillip runs track for the Chicago Track Club and loves football. He plays the djembe and is learning to play guitar.

You can catch Phillip Cusic as the miserly Marley in eta's production of the ghostly holiday tale through December 20. A Family Holiday Special offers reduced price tickets for families of two or more on December 6, 12, 13 and 19. Tickets must be purchased for cash only at the Kennedy King College box office where performances are being held while eta is undergoing renovations.
Phillip Amiri performs in "A Christmas Carol" at Goodman Theater through December 28.
eta Creative Arts Foundation December 6-20, 2014 Kennedy King College 740 W. 63rd Street
7 pm Friday; Saturdays at 3 p.m. and 7 p.m.
Box Office: 708-926-4641. Group rates available www.etacreativearts.org.
Goodman Theatre Thru December 28 170 N Dearborn Street Box Office: 312.443.3800. Group rates available www.goodmantheatre.org