Jones College Prep H.S. School Unveils Renovations to Old Building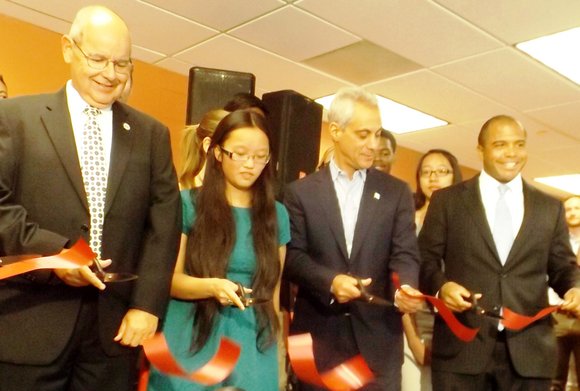 Jones College Prep High School (Jones H.S.) is now a two-building campus, thanks to the renovation of the school's old building at 606 S. State Street, which occurred after the school's officials decided not to tear it down. Chicago Mayor Rahm Emanuel, Chicago Public Schools officials, students and staff along with members of the Chicago Public Building Commission were on hand for a ribbon cutting ceremony to unveil the upgrades.
"We opened the new Jones (700 S. State St.) about two years ago," said Mayor Emanuel, adding the old building was going to be torn down. "The principal said we think we can serve more students and so I went back and said we are not going to tear down the old Jones (606 S. State Street) and you have to come up with a plan and that process of cooperative thinking engaged and was basically a plan to rebuild and rehab (the old building)…"
The new Jones H.S. is located at 700 S. State Street.
Jones H.S , which is nestled in the heart of Chicago's South Loop district, originally served 900 students. The new building and renovations to the old building will increase enrollment to 1,700 students by 2016. In School Year 2013-2014, Jones received nearly 11,000 applications for just 250 incoming freshman selective enrollment seats.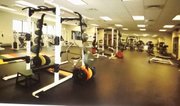 Renovations of the old building include a new student resource center, art rooms, a multi-purpose room, a fitness center with locker rooms, a pre-law lab and a permanent canopy linking to the new building. The school also received architectural renovations, mechanical and cooling plant upgrades, as well as renovations to the cafeteria.
"We are so proud to be in this building and that could not have happened without the help of Mayor Rahm Emanuel. Several years ago on the Mayor's first visit here, he showed a strong interest in maintaining this building, said Dr. P. Joseph Powers. "We now have a two-building campus and are now able to serve double the number of students and we'll eventually be up to 1700 students for this campus."
Jones College Prep also began offering two CTE (Career Technical Education) programs last school year that provide students with focused coursework in pre-engineering and pre-law. A total of 300 seats dedicated to these programs will be added by 2016.
"For many years Jones College Prep prepared Chicago's students for a bright future, and these renovations and expansion will allow more students to enroll at a nationally-ranked school before moving on to college and a successful career" said Chicago Public Schools (CPS) CEO, Byrd-Bennett. "The renovations also allow Jones to offer students a wider variety of educational opportunities."