Chicago Votes Registers Young Adult Voters
Chicago Votes works with several organizations on voter registration.
Lee Edwards | 8/13/2014, 12:20 p.m.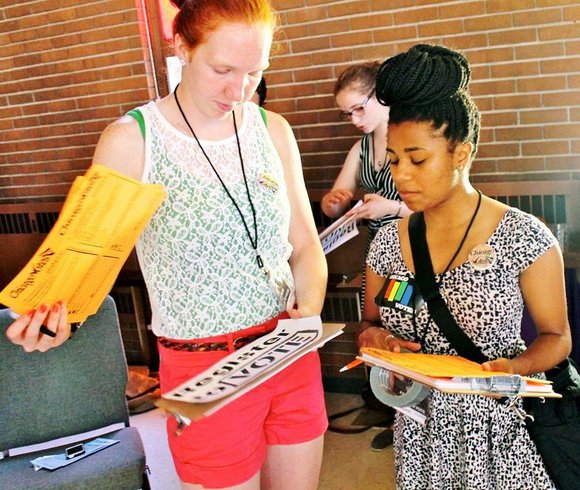 Chicago Votes, a non-partisan, nonprofit organization that encourages young adults to get involved in the electoral process, has set a goal of registering 25,000 individuals ages 18-35 – particularly people of color- to vote in the Chicagoland area.

According to a U.S. Census Bureau report on age and voting patterns released in April 2014, voting rates among young adults fell to 38.0 percent in 2012 from 44.3 percent in 2008 following increases in two consecutive presidential elections (2008 and 2004). The report also states that since the U.S. presidential election of 1964, 18-24-year-olds voted at lower rates than all over groups.

In contrast to young adults, African American voting rates have been on a steady incline since 1996 where the African American voting rate was at 53 percent. In 2012, the African American voting rate was 66.2 percent according to the U.S. Census Bureau, which was higher than that of the Non-Hispanic Whites rate of 64.1 percent, a first for Africans Americans in the United States.

"We feel like the first step to actually changing what government looks like in our city and in our state [is] to first get registered and make sure we have the ability to make our voices heard on the foremost issues," said Breanna Champion, a field organizer for Chicago Votes, and former volunteer for a local Chicago politician's campaign. "That's why our demographics are primarily 18-35 and specifically people of color because we're just not represented in government right now."
Champion stated that as a field organizer, she spends approximately 25 hours a week registering people to vote and approximately 15 hours a week planning where to go to register voters next and creating relationships that could help Chicago Votes reach its goals.

Although highly motivated, Champion admitted that it is difficult at times, trying to inspire others to vote.
"It can be tough; a lot of people my age are apathetic - for good reason - people don't trust the government - again, for good reason - and it can be tough to convince my peers that this is the right thing to do," said Champion. "But when I remember why I do the work that I do and whenever I remember why I believe in it, most of the time depending on the day, I'm able to change someone's mind or convince them otherwise and that feels good."
Chicago Votes works with several organizations on voter registration including Action Now.
"[Individuals who 18-35 year olds are] the future, those voters are going to be carrying our country for years to come. It's important to get them involved and to have them start making decisions about their city, state, and country but also young people bearing the brunt of a lot of failed policies," said Action Now Communications Director Aileen Kelleher. "We think it's very important to register people of color as well as young people."
Chicago Votes will be present at Next Generation Illinois', an affiliate of Chicago Votes, NextGen Public Caucus at the University of Illinois at Chicago's (UIC) Civic Lab, 114 N. Aberdeen St. today at 5:30 p.m.

For more information visit http://chicagovotes.com/ and Chicago Votes' Facebook page.