Young Women's Leadership Charter School Recognized by City Hall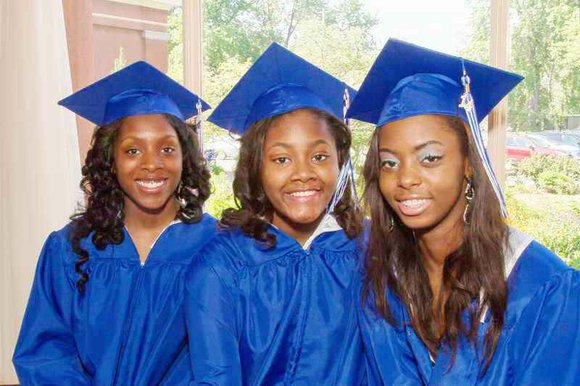 Chicago's only all-girls public school, Young Women's Leadership Charter School (YWLCS), 2641 S. Calumet Ave., was recognized by the Chicago City Council last week, via a resolution for its academic excellence – most notably for producing a Gates Millennium Scholar for the second consecutive year .
"As a city, we set our goal of 100% college ready and college bound and it's achievable, not just inspirational but achievable, and the city of Chicago has beat every other city in the Gates Millennium Scholars and continues to set the gold standard and making sure that we have another generation on the right course and making a bright future for themselves and for all of us," said Chicago Mayor Rahm Emanuel during the City Council meeting where YWLCS was honored.
Chicago Alderman Michelle Harris (8th) introduced the resolution to the City Council for consideration. Afterwards, she spoke about the work YWLCS has done and the importance of education for young women.

"[YWLCS] [is] taking the lead on educating young women," said Harris. "I think it's really important for these girls to get a quality education in an environment that challenges them and promotes them to be the best they can be and empowers them at the same time. I think what they're doing is going to be great for that group of young women and I also think it's going to be great for the city to have a program that works for young girls."

YWLCS' mission is to inspire young women to prepare for higher education while nurturing their self-confidence. YWLCS' admission is lottery based for all Chicago young women in grades 8-12.

"Having a school that produces Gates Millennium Scholars is something we're very proud of here in the Fourth Ward," said Chicago Alderman Will Burns (4th). "But, the entire City benefits when we have young students who achieve great things in the classroom. And through this scholarship, these young women now have an even better opportunity to carry the legacy of their Chicago education into their college years."
After receiving the resolution, YWLCS' Chief Academic Officer, Dr. Ruanda Garth McCullough stated, "This resolution is in honor of our 100 percent graduation rate of all of our Class of 2014 [students]. What this means for our school is that this is business as usual, this is not the first year that we've had 100 percent graduation rate but we wanted to take time to celebrate the students for their continued effort. [This] is the second year in a row that we have a Gates Millennium Scholar and so we were also celebrating that as well."
"We celebrate women; Girl Power is our mantra," McCullough continued. "Going forward, we would like to increase the number of our students going to highly selective colleges. That would be our goal and our mission."
The Gates Millennium Scholars (GMS) Program is a $1 billion dollar grant initiative by the Bill & Melinda Gates Foundation (BMGF) created to assist outstanding minority students with significant financial need to attend college until graduation. Since 1999, GMS has selected 1,000 students each year. Over 50 of the GMS were selected from Illinois this year.

Charnae Caldwell was YWLCS's Gates Millennium Scholar this year. Caldwell, who strives to set a great example for her younger sister, will be attending Clark Atlanta University in the fall, and will major in Business Management and minor in Fashion Design. Caldwell took AP English and AP Geography at YWLCS and stated that her education there was "great" and that the school's dynamic was incredibly close-knit saying "we're like a sisterhood, like a family."
"It means absolutely everything to me, and believe it or not, I was a student that actually thought that I wouldn't get it because it was a certain amount of essays that I had to do in a certain amount of time and I thought I would not get it," Caldwell told the Chicago Citizen Newspaper. "It takes the weight off my shoulders and my mom's shoulders about taking out loans and things like that."
For more information about the Young Women's Leadership Charter School visit http://www.ywlcs.org/.