NBA Bars Clippers Owner Donald Sterling for Life
Associated Press/Lynn Zinser | 4/30/2014, 11:04 a.m.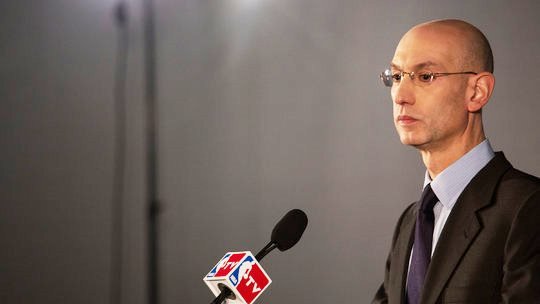 Donald Sterling, the longtime owner of the Los Angeles Clippers, was barred from the N.B.A. for life and may be forced to sell the team for making racist remarks, the league commissioner, Adam Silver, announced Tuesday. Silver said that Sterling would be barred from any contact with his team and the league and that he would be fined $2.5 million, the maximum allowed by the league's constitution.
"The views expressed by Mr. Sterling are deeply offensive and harmful," the commissioner said. "We stand together in condemning Mr. Sterling's views. They simply have no place in the N.B.A."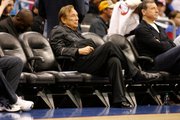 The commissioner said Sterling, in an interview, had admitted to him that the racist remarks on a recording released last week by the website TMZ were his. He said he would "do everything in my power" to see that Sterling was forced to sell the Clippers. "I fully expect to get the support I need to remove him," Silver said.
Before the announcement, Silver said, he discussed the decision with Coach Doc Rivers and guard Chris Paul of the Clippers. "I believe the players will be satisfied with the decision," Silver said.
The commissioner's announcement came at the conclusion of the league's investigation, which started over the weekend after the recording was released and news of it spread. The ensuing outrage put tremendous pressure on Silver to act decisively.
After the announcement, the immediate reaction from players and owners supported Silver's decision. James L. Dolan, the owner of the Knicks, was among those releasing statements. "This behavior has no place in basketball, or anywhere else," Dolan said in a statement. "We as a league must stand together in condemning this ignorance."
The Clippers quickly changed the home page of their website to contain only a team logo and the words, "We Are One."
Magic Johnson, who found himself in the middle of the controversy when Sterling, on the tape, told a woman not to bring Johnson or other black men to Clippers games, responded immediately on Twitter.
Owners, players and advertisers had been speaking out since the recording emerged, with players staging on-court protests and advertisers suspending or cutting ties with the team.
Mark Cuban, the owner of the Dallas Mavericks, was among those cautioning the league to move carefully, calling it "a very, very slippery slope" when owners are disciplined for their words. But, after the decision, Cuban expressed full support of the move.
"What Donald said was wrong," Cuban told reporters Tuesday. "It was abhorrent. There's no place for racism in the N.B.A., any business I'm associated with, and I don't want to be associated with people who have that position. But at the same time that's a decision I make. I think you've got to be very, very careful when you start making blanket statements about what people say and think, as opposed to what they do. It's a very, very slippery slope."
Mayor Kevin Johnson of Sacramento, a former N.B.A. star who had called for the league to issue the maximum possible penalty against Sterling, expressed his unequivocal support of Silver's move. "Adam Silver showed he is not just the owners' commissioner. He is the players' commissioner," Johnson said in a news conference after Silver's. "There will be zero tolerance for institutional racism, no matter how rich or powerful."