A New Exhibit Spotlights Key Black Fashion Designers
4/11/2014, 3:14 p.m.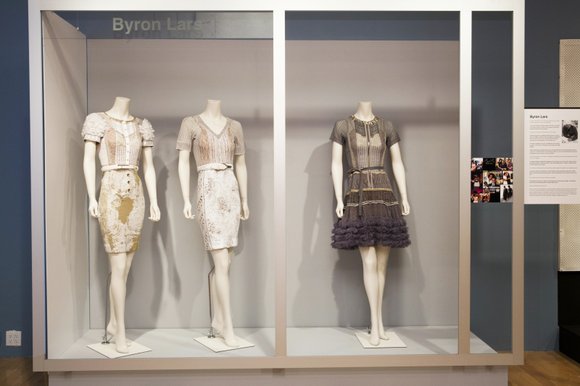 Five years ago Pratt fashion professor Adrienne Jones's godmother gave her a list of black fashion designers the latter thought warranted attention. The names themselves had been drawn from scrapbooks she had compiled over the decades, which were devoted to talented, but neglected black designers and their work. "It was fascinating," says Jones, "because as much as I know about the black fashion industry, there were people that I had never heard of."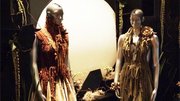 It was this realization that inspired Jones to develop Black Dress: Ten Contemporary Fashion Designers at Pratt Manhattan Gallery, 144 West 14th St.
New York, NY, which opened last month in honor of Black History Month. Co-curated by Jones and art dealer and exhibition developer Paula Coleman, Black Dress is a statement to the fact that, despite their growing influence and success, black designers remain largely underrepresented in the fashion world.
The exhibition space at the gallery has been transformed into a series of Madison Avenue–style store windows. Each store window features bold visions from designers who have influenced contemporary fashion around the world. Showcasing both established designers such as Tracy Reese, Byron Lars, and Stephen Burrows, as well as up-and-coming—including Project Runway contestants Samantha Black and Epperson—the exhibition draws upon the long history of African-American fashion designers, which includes Mary Todd Lincoln's dressmaker Elizabeth Keckley and Ann Lowe, who designed Jacqueline Bouvier's wedding dress for her 1953 marriage to John F. Kennedy.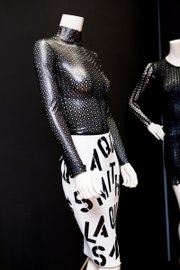 "With Ann Lowe, I just found her to be so incredibly fascinating as a designer because she created these absolutely stunning garments but was probably not that well known until she did the wedding dress," says Jones. "And, even then, she was described as the 'colored woman.' You would actually have to know the history to know that the 'colored woman' actually had a name, and her name was Ann Lowe. I think, she was the first one to be known as a designer and not just as a dressmaker."
Today, many black designers toil in obscurity, and even those who have broken through are not accorded the recognition of their peers. Jones believes that even with the inroads designers such as Lars and Burrows have made, Tracy Reese may be the only one who is known worldwide. "Tracy is very important to this exhibit," says Jones. "She has managed not only to be out there, but sustain her presence and be out there for years. When she first came out, I know, that a lot of people didn't know that she was black. So, she got the opportunity to have people know and appreciate her and her designs without having a skin color attached to them. Which many of us will agree, it's a plus. We want to be known. But we want to be known as great designers not as great black designers."
Young people, such as Samantha Black, who are willing to work hard and hold fast to their vision play an important role in achieving this goal. "Samantha, just never gives up," says Jones. "She never says never and I love that spirit about her. I see the younger ones coming up and saying 'listen, this is what we want to do, this is how we identify ourselves.' Race right now is a big thing. We're at a juncture right now where it's a subject that needs to be discussed. Young designers need somebody who they relate to so they can realize that there is so much more that they can explore."
Source: Metropolismag.org/ Shannon Sharpe