First Ladies Health Day Event Held at Sheldon Heights Church of Christ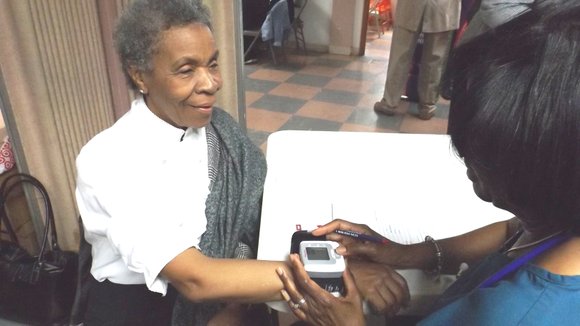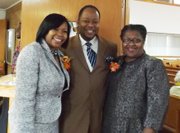 Following Sunday's church service, Shelby Hamilton eagerly perused the various health screening tables set up in the basement of the Sheldon Heights Church of Christ, 11355 S. Halsted, where she is a member, before deciding on the blood pressure check as her first stop.

"I wanted to take advantage of the free health screenings offered here today," said the elegantly dressed Hamilton before rolling up her sleeve to have her blood pressure checked.
Shelby was referring to the "First Ladies of Health Day" where, 50 churches in and around the Chicagoland area simultaneously hosted free health screenings on Sunday during the Fifth Anniversary of the Walgreens-sponsored First Ladies Health Initiative.
Initiated by Walgreens Director of Community Affairs, John Gremer in 2008, the Initiative premiered in 2010 in Los Angeles and expanded in 2011 to include the health day and the dissemination of information about several illnesses.
More than 15,000 people were expected to take part as churches opened their doors to health experts who provided free health screenings for chronic illnesses that disproportionately impact African Americans, such as HIV/AIDs, high blood pressure, hepatitis C, breast cancer and diabetes.
Screenings also were conducted for depression, high cholesterol and information on migraines, Alzheimer's and other illnesses that strike African Americans particularly hard.
Sheldon Heights' First Lady, Brenda Gilbert said it was the first time Sheldon Heights took part in the First Ladies Health Day event but it won't be the last.
"We as a church have a passion for taking care of the body and the soul," First Lady Gilbert said. "But if the body is not right…"
Not all of the parishioners took advantage of the screening she said.
"Sometimes I think people are afraid of knowing (their health condition)," First Lady Gilbert said. "We have a partnership with the Walgreens at 106th and Halsted so that people can continue their screenings after today and we can also invite Walgreens back to the church for another screening event. Next year we'll do even wider health screenings."
Sheldon Heights' Pastor, Leonardo D. Gilbert said he was glad his church partnered with other churches for the first time during the event.
"I allowed the first lady to open our doors to what's already part of our (church) vision to help in areas of need such as health care. As a community we have to come together to provide the needs of the community."
Jamell Meeks, the wife of the Rev. James T. Meeks of Salem Baptist Church, served as chairwoman of the First Ladies Health Initiative for the fifth year. Shauntai Stowers, wife of Pastor Clarence Stowers, Jr. of Mars Hill Baptist Church, served as co-chairwoman of the Chicago program representing the west side of Chicago.
"The First Ladies Health Initiative is one of most important health programs in the nation in terms of saving lives in our urban communities," stated Meeks via press release. "We have had instances in various churches where ambulances were called following blood pressure screenings, and many participants have also tested positive for HIV. This isn't a program that just speaks to us, it saves lives."