Chicago State University Offers Small Business Workshops
Lee Edwards | 10/9/2013, 3:41 p.m.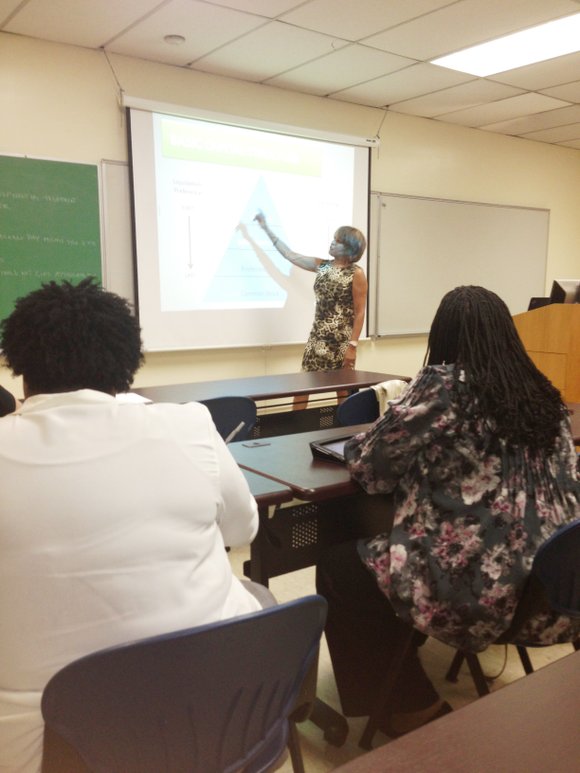 The Illinois Small Business Development Center located on Chicago State University's campus, 9501 S. King Dr., hosted a free monthly workshop last Friday entitled "Starting a Business in Illinois" for small business owners.

According to its' website, the Illinois Small Business Development Center "provides counseling and resources - at no cost - to pre-venture and start-up businesses, as well as established business owners who want to grow their companies. The Center operates in partnership with the Small Business Administration (SBA), Illinois Department of Commerce and Economic Opportunity and Chicago State University."
The workshop was conducted by Dana Gaines who is the former Executive Director of the International Trade Bureau for the Rainbow PUSH Coalition with Rev. Jesse Jackson where she worked with over 300-400 small business owners and the former President and CEO of the Alliance of Business Leaders and Entrepreneurs (ABLE).

Gaines provided attendees with a two-hour presentation that included handouts and text books about the basics of starting a business. The discussion integrated market and business analyses, location, reputation and branding, product delivery methods, customer service and more. Gaines often times allowed the attendees to lead the discussion and encouraged networking amongst the attendees.

When asked about why she focuses her energy in the African American community, Gaines told the Chicago Citizen Newspaper, "I think that's where the need is. Most of our businesses are first generation; we often don't find many businesses In the African American or the minority community that are second and third generation. So they're starting from ground zero and often have very unique and innovated ideas but often don't have the underlining business development or professional development to execute successfully."
Gaines also stated that access to capital is one of the largest issues facing small businesses and suggested that forming partnerships and creating joint ventures could be a possible solution.
Small Business Development Center Interim Director Scott Steward, was on hand to oversee the event.
"We offer workshops on everything from how to start a business in the state of Illinois, legal structures, tax implications, where to get funding, how to develop a business plan, etc.," said Steward.

In addition to his duties as Small Business Development Center Interim Director, Steward is a professor of Entrepreneurship and Small Business Development at CSU.

Workshop attendee, Robert Rogers, told the Chicago Citizen Newspaper that he has been attending the workshops for the past five after seeing an ad about them. Rogers plans to start his small business this March and is making use of the workshop to help with his research and market analysis.
"To take a part in this is going to be fun, I have the support of my family and I'm going to include my 12 year old. It's a family venture," Rogers said.
For more information visit http://www.csu.edu/sbdc/overview.htm.