The Village of Hazel Crest Hosts 1st Annual Community Outreach Summit
Lee Edwards | 11/21/2013, 3:10 p.m.
The Village of Hazel Crest hosted its 1st Annual Community Outreach Summit at the Hazel Crest Municipal Center, 3000 W. 170th Pl., on Saturday.
At the summit, representatives from over twenty-five companies and human service agencies were in attendance providing services anywhere from signing citizens up for health insurance through the Affordable Care Act to Need to finding work through the Illinois jobs network. Elected officials throughout the Southland were also present and discussed with attendees, the myriad social services available to constituents through their respective offices.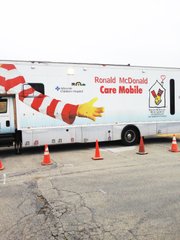 "[The Community Outreach Summit] is not only for the Village of Hazel Crest but the Southland region because what we've done is invite everyone from the Southland to participate in this community outreach," said Vernard L. Alsberry, Jr., Hazel Crest Village President. "We basically organized this through our community relations commission. It took us two months to really make the phone calls to get the confirmations from the different organizations and to move this forward."
Get Covered Illinois, Walgreens, United Way, the Catholic Charities, Easter Seals, etc. were amongst the organizations that participated in the event.
"We're just trying to help out the community and provide them with information," said Phil Martin, Walgreens Store Manager at the 183rd & Pulaski location.
Services provided at the summit included:
· AT&T's "Don't Text and Drive" simulator.
· Advocate South Suburban Hospital provided a Ronald McDonald Care Mobile to provide school sports physicals and flu shots for uninsured children. Advocate South Suburban Hospital also provided blood pressure screening and blood glucose screenings for adults.
· ComEd & Nicor Gas offered financing options to customers.
· Illinois Department of Employment Services (IDES) representatives assisted attendees in learning about the Illinois jobs network and employment opportunities.
· Walgreens offered information about Medicare Part B which covers diabetic supplies and administered flu shots.
· Easter Seals provided information about early detection for mental illnesses in children and other resources.

· Get Covered Illinois offered education, outreach and partial enrollment for the Affordable Care Act (ACA).
 "This was an event put on to make sure that our citizens reap the benefits of all the things that were available to them," said Village of Hazel Crest Trustee Susan Pate. "We definitely want to make sure that was in place for our citizens especially our seniors."
The Village plans to produce the outreach summit annually for its residents.
"I didn't know what would be here," said Jim Gibson who eventually took advantage of Walgreen's free flu shot offer and made an appointment with a chiropractor who was at the summit.

"I think anything put on that can inform people is a benefit," he said.
For more information about Village of Hazel Crest resources visit http://www.villageofhazelcrest.com/.