South Suburban College's Adult Literacy Night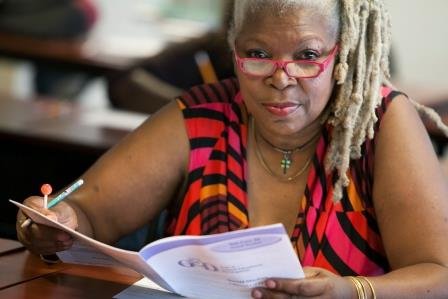 South Suburban College's (SSC) Adult Volunteer Literacy Program's fourth annual Family Literacy Night event will be held from 7 to 9 p.m. on Thursday, Nov. 21st.
"Tutoring is a very rewarding opportunity for anyone who is able to read and/or process mathematical problems, because it will give the volunteer the opportunity to help someone who desperately is in search of assistance to improve his or her abilities in these areas," said Jane Ellen Stocker, Vice President of Enrollment & Community Education South Suburban College
The public is invited to the program to learn more about community literacy while enjoying stories and presentations from local authors who have been invited to attend.  There will also be free books for children, raffles and refreshments.
Guest authors will include Maria Barnes (Hammond, IN), Margaret Jones-Scott (Markham, IL) and Art Burton (Phoenix, IL). 
Barnes has written several children's books including "I Can Drive" and "Starship Fuel," under the pseudonym Mari Lumpkin. 
Jones-Scott explains in her "Living Lessons, A Journey of Struggle and Redemption" how she learned to apply metaphysics principles to the understanding and the meaning of overcoming life's challenges. 
Burton, an SSC History instructor, will answer questions from guests and sell signed copies of one of his books on African Americans in the Wild West–"Black, Red and Deadly." 
Illiteracy is an issue that can be debilitating in so many ways for adults who never received the proper instruction. 
Adults who are unable to read have a much more difficult time with many daily activities that others may take for granted, along with a clear disadvantage in today's competitive job market. 
SSC's Office of Community Education administers the Adult Volunteer Literacy Tutoring Program in addition to General Education Development (GED), English as a Second Language (ESL), and Adult Basic Education (ABE).
For more information about Family Literacy Night or the Adult Volunteer Literacy Program, please contact Christopher McElroy, coordinator, at (708) 596-2000, ext. 2558, or email CMcelroy@ssc.edu.  This event is sponsored in part by the SSC Foundation South Suburban College, located at 15800 S. State St., South Holland, Illinois.