Residents Protest to Abolish Red-light Enforcement and Speed Cameras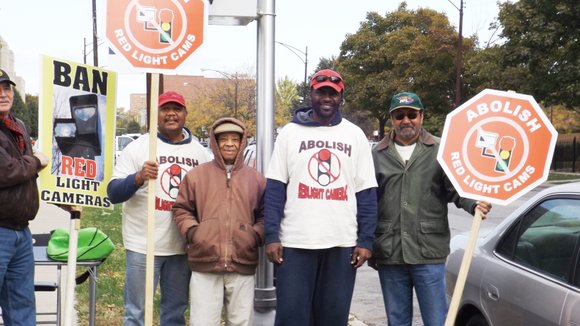 For instance, based on the City's data, cameras were installed at the 79th Street and Cottage Grove intersection in 2007. In 2005, there were 17 crashes total in that area; five were angle crashes, two were rear-impact crashes. In 2010, the data show an increase to 19 total crashes at that intersection, one angle crash and 10 rear-end crashes, an 11.8 percent total increase, an 80 percent decrease in angle crashes but a whopping, 400 percent rear-end upsurge.
Other intersections show increases anywhere from 100 up to 550 percent in rear-end crashes.
When asked if the significant increase in rear-end crashes at some intersections caused concern enough for the City to consider removing the red-light cameras, Scales said, "In some cases the rear-end crashes did increase but we are focused on eliminating the right-angle crashes which has a higher rate of injury than rear-end crashes.
Angle crashes listed in the data did show declines at the various intersections with the intersection at 35th and California reporting a 300 percent decline in angle crashes in 2010.
Citing Illinois Department of Transportation data, that reportedly show a significant reduction in serious crashes at certain intersections, Mayor Emanuel announced Oct.2, removal of 36 red-light-enforcement cameras at 18 intersections across Chicago.
"Automated traffic enforcement, whether through red-light or speed cameras, is about changing drivers' behavior," said Mayor Emanuel in a press release. "The cameras at these intersections are now showing a low level of crashes and dangerous angle crashes, which means an enhanced level of safety."
Fourth Ward Ald. Will Burns, said he opposed the newly installed speed-camera at 53rd and Cottage Grove.
"The City Council debated Mayor Rahm Emanuel's Children's Safety Zone ordinance. The ordinance, often referred as the speed cameras ordinance, permits the City of Chicago to install speeding enforcement cameras in school and park zones. I voted against the ordinance, because I disagreed with the administration on ticketing speeders between six and ten miles over the speed limit. I also believed that the operating hours of the cameras should be harmonized between the parks and the schools so that every Chicagoan would be aware that the cameras are on between 7 a.m. and 7 p.m. These suggestions were not incorporated in the ordinance that passed on Wednesday. Finally, I heard from many Fourth Ward residents who expressed strong opposition about the ordinance, and as a consequence I voted my ward's position."
The 18 intersections where red-light cameras were removed are:
Osceola and Touhy Avenues

Kedzie and Devon Avenues

Harlem and Higgins Avenues

Sheridan Road and Hollywood Avenue

Austin and Belmont Avenues

Cicero and Belmont Avenues

Halsted and Belmont Avenues

California and North Avenues

Wells and North Avenues

Kostner Avenue and Division Street

Clark Street and Cermak Road

California Avenue and 35th Street

California Avenue and 47th Street

Pulaski Road and 71st Street

Wentworth Avenue and 69th Street

Racine Avenue and 79th Street

79th Street and Cottage Grove Avenue

Stony Island Avenue and 89th Street
Red-light enforcement cameras still remain at the following locations: