Residents Protest to Abolish Red-light Enforcement and Speed Cameras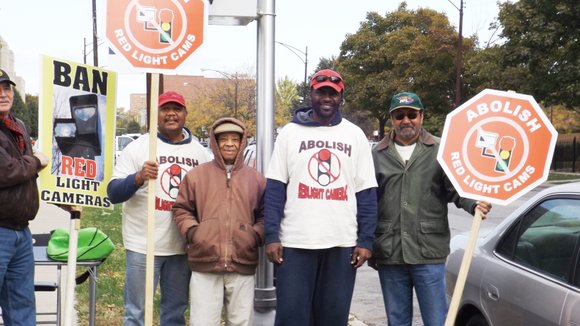 Community activists in Chicago, led a red-light enforcement and speed camera protest and petition drive recently in an ongoing effort to obtain enough signatures to place a referendum (a general vote by a body of people entitled to vote on a single political question that has been referred to them for a direct decision) on the ballot for the 2014 general election, to abolish red light and speed light cameras.

"We're outraged," said WVON Talk Show Host, Mark Wallace who stood with Citizens to Abolish Red-light Cameras the near a recently erected speed-light camera at the intersection of 53rd Street and Cottage Grove last month on. "We started the petition drive in the spring and now have over 40,000 signatures."
Chicago began its red-light camera enforcement in 2003, with the city's pilot program at Peterson and Western and 55th and Western Avenues.

Wallace said the group needs 56,000 signatures to have the matter placed on the ballot but the goal is to collect 100,000 signatures.
"The goal is to have all red-light and speed cameras removed," Wallace said adding the cameras also pose a financial hardship for African Americans who already face high unemployment.
When asked to respond to Wallace's claims as to where red-light and speed cameras are installed, Chicago's Transportation Department spokesperson, Pete Scales said, "The red-light cameras have been in operation for more than a decade now. "Speed cameras have only been up a couple of weeks, and are just beginning to issue tickets. However, in the next couple of days, I should have some stats about how the number of speeding events have dropped dramatically from the first week they were issuing warnings, to the first weeks they were issuing tickets. The cameras are starting to change drivers' behavior already.

As for where they're placed, Scales said. "I believe the cameras are distributed widely, across the city based on crash data and not by politics or race."
Chicago resident Tim Hughes was driving near the protest and stopped to sign the petition.

"It doesn't make sense that this speed camera is here," said Hughes pointing to the speed camera at 53rd Street and Cottage Grove intersection. "If it was here for school safety I could understand but it's all about money."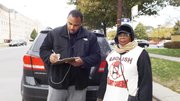 Volunteer Shirley Underwood said, "It's like (former Chicago Mayor Richard) Daley drained the financial barrel, and (Mayor Rahm) Emanuel is scrapping the bottom. These cameras will have a negative impact on the Black community."
Todd Grisby signed the petition saying, "It's a sham. These cameras do not reduce or cause a significant drop in speeding."
Asked if the number of car crashes decreased where the red-light cameras were installed, Scales deferred to the City of Chicago's Red-light camera crash analysis posted on the City's website.
The City's analysis show a slight overall decrease in total crashes that went from 22.67 to 20.81 from 2005 to 2010 for intersections that went live in 2006, 2007 and 2008.
However, what's hard to ignore is the significant number of rear-end crash increases at various intersections.