LUV Institute Provides Entrepreneurial Holiday Spirit for Youth
Lee Edwards | 11/20/2013, 4:44 p.m.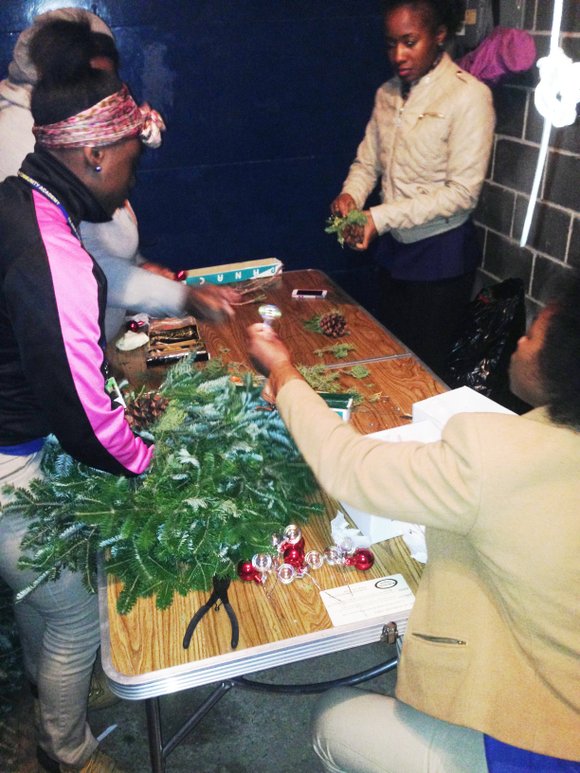 The Love, Unity & Values (LUV) Institute is making the best of this holiday season via its Wreaths of LUV project, which provides a positive and productive outlet for young women by allowing them to hand make custom decorated 22" holiday wreaths. The wreaths will be sold for $35 during LUV's first annual fundraiser which is facilitated by students from the LUV Holiday Entrepreneurship Program.

The wreaths are being sold at the Harper Theater, 5238 South Harper, in the Hyde Park neighborhood every Saturday until December 14 from 11 – 2 p.m. Harper Theater sponsors the Wreaths of LUV project along with other area businesses including Hyatt Place, Hyde Park Florist, Martha Stewart Living Omnimedia, Prologue Schools LLC, the UPS Store and Prologue Inc.
The idea of working with the young women to create wreaths came from LUV Institute's Executive Director, Cosette Yisrael. Inspired by her mother, Yisrael decided to create a program that would teach young women interested in entrepreneurship by creating Christmas themed ornaments.

"Prologue Schools, Inc. was interested in giving young women an opportunity [that are] on probation some soft skills and so we created the Holiday Entrepreneurship Program and people have been so receptive to them," said Yisrael.

Prologue, Inc. was founded in 1973 as a non-profit organization and provides educational and support services in disadvantaged neighborhoods.
"This is an entrepreneurial program that's going to be raising money for the LUV Institute's other programs," said Redessa Harris, Chairperson of the Communications Committee for the LUV Institute. "We felt that the Christmas holiday was a great time to get young people engaged in learning the tenets of entrepreneurship. They have not only learned how to make these beautiful wreaths; [but] before that, they had a class, one of our business consultants, Gleatha Glispie, taught them the process of entrepreneurship, how to select a project, learning how to produce the project, the importance of the marketing portion of it, etc.

Gleatha Glispie is the former Director of Supplier Diversity at Walgreens and now does volunteering and business consulting.
The young women involved in the Wreath of LUV project are actively working to improve their lives for the better.

"These students were referred to us by transitional living programs, they are referred to us by their case managers," said Prenita Hudson, LUV Institute Program Assistant. "Working with them is rewarding. We engage them in the curriculum we have and they are very receptive."
"The LUV Institute [has] an entrepreneur program to help young women like myself that's in the juvenile justice system stay out of trouble and turn something negative into something positive," said Davisha Junius, a 16 year-old Wreaths of LUV participant. "It's fun, it's different. I'm not used to making wreaths or making things with my hands. It' brings me out of my box in a good way; I don't look at it like a job, I look at it like its a new hobby, something fun to do."
The LUV Institute is a 501 (c)(3) nonprofit organization that specializes in youth development and entrepreneurship.

For more information about the LUV Institute visit http://www.luvinstitute.org/.