Property Fraud Meeting Held in Chatham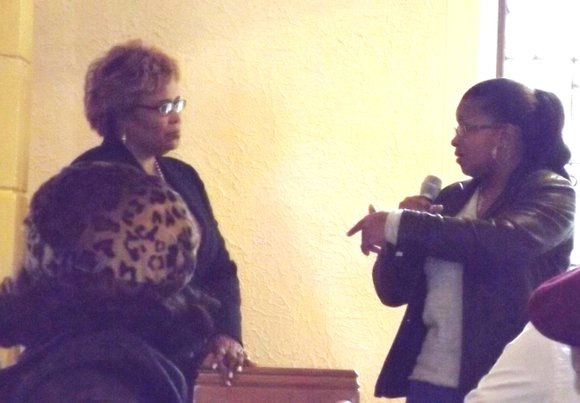 Area residents packed the Crerar Memorial Presbyterian Church (8100 S. Calumet Ave.) on Chicago's South Side on Saturday to hear what Cook County Recorder of Deeds (CCRD) Karen Yarbrough had to say about the often occurring practice of property and deed fraud, something even City of Chicago Treasurer, Stephanie Neely has been a victim.
"I am the city advocate for homeowners in Chicago," Yarbrough told the audience of mostly senior citizens who gathered in the church for the event. "We have to protect ourselves and our community. We don't want to talk about family members who are doing these things but it happens. You will get speedy turnaround from our office. We have an investigator who will look into it."
Public elected officials are targeted by scammers who feel they have been wronged by them. For example, City Treasurer Neely was a victim of property fraud in 2011.
A New York Times story, passed out during the meeting tells how City Treasurer Neely became a victim, after a deed filed with the CCRD office listed the Moorish Science Temple of America as the owner of the home she owns in the 1100 block of East 44th Street, one of more than 30 Chicago-area properties so listed.
Neely, the story states, was shocked to learn about the deed and hired a lawyer to straighten out the matter.
The story goes on to state that R. Jones-Bey, a grand sheik and moderator of the Moorish Science Temple of America, said the church had no knowledge of it and that there have been other organizations calling themselves the Moorish Science Temple of America.
During the event residents were told about how savvy "fraudsters" are abusing Illinois' open land records system to steal properties and what do if someone files a quitclaim deed against your property.
This crime is easily committed by filing a deed on a property. Once the document is notarized and a fee is paid to the recorder of deeds, the document is part of the official record of ownership.
Because few homeowners check their property records after purchasing a home, the deed can go unnoticed until someone shows up to your home claiming ownership.
Yarbrough shared the story of how a senior citizen who was home when a man showed up to her South Side property and changed the lock on her home's front gate and proceeded to change the locks on her home's doors. When the woman asked what he was doing, the man reportedly showed the homeowner paperwork stating that he was the new owner of the property. That man was later arrested.
Sometimes erroneously referred to as a ("quick-claim" deed), a quitclaim deed is a legal instrument by which the owner of a piece of real property, called the grantor, transfers his or her interest to a recipient, called the grantee. The owner/grantor terminates ("quits") his or her right and claim to the property, thereby allowing claim to transfer to the recipient/grantee.
John Mirkovic, CCRD's communications director provided residents with information.