New Indoor Mall Provides Opportunity and Community Services
citizen | 5/22/2013, 11:20 a.m.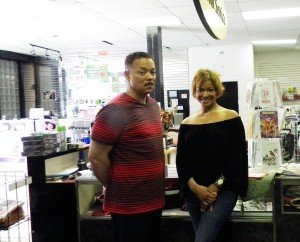 Situated on the busy stretch of east 79th Street, just across from the old Regal Theater, a grey two-flat houses the newly opened 79th Street Indoor Mall, a black-owned joint venture that provides African American entrepreneurs with a place to launch and area residents a place to receive community services.
Kamala Hodges-Ronan, managing broker of Accomplished Realty Group, and Community Activist Harold Davis, president of Amer-I-Can Enterprise II, an organization that offers services and support to youth and the community, partnered to create the Indoor Mall concept that provides training, new and used clothing, accessories, toiletries, reading materials and free Wi-Fi.
"Harold and I met a couple of years ago when I was a guest on his radio show, "The Booty Butt Naked Truth" radio talk show. I was a guest on the show to talk about my nonprofit organization, Mission Accomplished Corp., NFP," said Ronan told the Chicago Citizen Newspaper.
The Mall right now is a pending 501c3 nonprofit organization and accepts donations and perhaps will apply for grant funding in the future.
"Technically, we're a nonprofit and Harold and I are doing business as the 79th Street Indoor Mall which is separate from the other businesses we each own," Ronan clarified.
With 6,000 square feet of space occupying two floors, the Indoor Mall at 1708 W. 79th St., also houses flea market booth space as well as office/booth space for anyone looking to launch a new business or other ventures.
The community is encouraged to use the Indoor Mall's free WIFI, participate in the upcoming on-site exercise classes, pay utility (gas and electric) and prepaid telephone bills, and most importantly, shop.
The shopping center also keeps a supply of books on hand, that are available for on-site reading.
"We also have free books for children, we're going to get the computers up so children can do their homework, Ronan said. "We have free clothing that people can just take if they're in need. We have free reading classes facilitated by a retired school principal and a former GED teacher. Whatever resources people in the community need, we're here to serve them. As a nonprofit, our proceeds fund the vast services and resources offered at the Indoor Mall. Resume writing is also offered.
The Mall currently operates with two employees and 4-7 volunteers that do a range of work, from clean-up to greeting shoppers and providing instruction for adult education classes. Ronan, arrives at the store each day for three hours and is there the entire day on weekends.
Davis has been meeting with African American entrepreneurs for several months and discovered that many of them often face challenges in terms of being able to afford rental space.
"Those people who had businesses, had to virtually shut them down," Davis explained. "With the indoor mall concept they could come in get a booth and get visibility (for themselves and their t product) in a flea market concept. On the weekend we've had three or four people at booths. We put about 20 booths around the store and it gives them the opportunity to sell products and put their business back out there. With a small minimum expense, they're able to grow their business"
Davis said though Chicago has the largest number of African American businesses in the country, the average revenue for those businesses is only $60,000 year.
"That says a lot but at the same time it says nothing. You have businesses right here on this strip that don't look like us and are making $60,000 a month selling alcohol, hair and doing whatever they want to do," Davis said. "So for us to have more businesses than anybody else in America, says we have the numbers but the numbers don't mean anything if it's not lucrative enough where you can make a profit and stay."
The Indoor Mall accepts donated items, clothing, books, etc.
Business hours: are 11:30 a.m. to 4:30 p.m., Mon-Fri.; 9 a.m. to 4 p.m., Sat; and 9 a.m. to 1p.m., Sun.
For more information, please visit the website at www.indoormall.org or call (773) 704-4768.
By Deborah Bayliss