Organization Trains Unemployed Cook County Residents for Jobs
citizen | 5/8/2013, 2:18 p.m.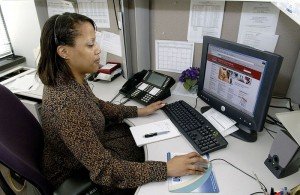 Skills for Chicagoland's Future (SCF), an independent nonprofit organization, is an effective avenue unemployed Chicago area residents can utilize to obtain training and find jobs.
Designed to close the workforce skills gap, SCF works directly with employers to identify their hiring needs and then connects them with unemployed job seekers in an effort to put area residents back to work.
Chicago Mayor Rahm Emanuel and Cook County Board of Commissioners President, Toni Preckwinkle announced the launch of Skills for Chicagoland's Future, (previously known as Chicago Career Tech) late last year. It is the first "regional adaptation" of the national organization, Skills for America's Future, which works to foster partnerships between businesses and community colleges to ensure workers are trained with employer-needed skills.
"We want to get the unemployed back to work by working directly with businesses," said Amanda Luther, SFC's director of marketing.
When necessary, the organization helps employers develop customized training programs that
provide job seekers with the necessary skills and certifications needed to fill specific open positions.
As a public-private partnership that is supported by the City of Chicago, Cook County and the State of Illinois, as well as by private and corporate foundations, the organization's nonprofit status means recruitment, placement and training services are provided at no cost to the employer or to the job seeker.
Unemployed job seekers in Chicago and Cook County can apply to be included in the SCF database for placement consideration and immediate opportunities.
Rather than training people in a skill and hoping they find a job, SCF focuses on identifying the available jobs and skills that employers require to meet current staffing needs.
Since its launch, SCF has placed job seekers in a variety of fields, including technical
and administrative, customer service, computer programming, and software testing positions.
"We are about six months in and so far we've placed 130 unemployed job seekers," Luther said.
SCF offers both Train-to-Hire and Immediate Hire programs.
Available job opportunities include both full-time and part-time, entry- and mid-level positions.
Businesses that SCF has partnered with thus far include Seaton Corp, Allscripts, Comcast, United Airlines and McDonald's Corp.
According to recent statistics released by U.S. Bureau of Labor Statistics, employment increased in April but was little changed from 7.6 to 7.5 percent.
The number of unemployed, at 11.7 million, was also little changed over the month; however, unemployment decreased by 673,000 since January.
Additionally, unemployment rates for adult women (6.7 percent) declined in April, while the rates for adult men (7.1 percent), teenagers (24.1 percent), whites (6.7 percent), blacks (13.2 percent), and Hispanics (9.0 percent) showed little or no change.
In April, the number of long-term unemployed (those jobless for 27 weeks or more) declined by 258,000 to 4.4 million; their share of the unemployed declined by 2.2 percentage points to 37.4 percent. Over the past 12 months, the number of long-term unemployed has decreased by 687,000 and their share declined by 3.1 percentage points.
For more information about Skills for Chicago Land's Future programs, please call (312) 906-7200.
To apply for immediate employment opportunities, unemployed Cook County residents
can sign up for SCF's job seeker database at www.skillsforchicagolandsfuture.com
By Deborah Bayliss