CSU's New Athletic Director Leads School to Victory
citizen | 3/27/2013, 2:30 p.m.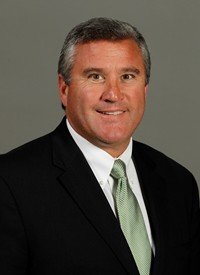 "We are Champions," the motto that recently became reality for the Chicago State University (CSU) Men's Basketball team after they defeated Houston Baptist University 75-60 in the Great Lakes Conference (GLC) on Saturday, March 17; the first victory for the school's new Athletic Director, Dan Schumacher.
Formerly of Lewis University, Schumacher's presence is already paying dividends, not only on the basketball court but for the CSU community as a whole. Schumacher is establishing a foundation based on academic achievement and athletic excellence, but his journey has only just begun, because according to him, winning the GLC was the first of many future steps in his three year plan to transform CSU into a top-tier athletic program.
And although the GLC is the only Division I National Collegiate Athletic Association (NCAA) conference that does not have an automatic bid to the NCAA, CSU's coaches and players are in high spirits because of their successful past season.
"We probably had as large a crowd as UIC at the Pavilion and it was an extremely impressive display of fan interaction, school spirit and continued support," stated Schumacher as he reflected on the past season.
Winning the Great Lakes Conference Championship is not the only good news for CSU. The University will be joining the Western Athletic Conference (WAC) next year and will benefit greatly from a visibility stand-point by transitioning into a larger conference and will gain a new level of credibility as a burgeoning Division I athletic program. The windfall of moving to the WAC is a game-changer not just for the players and administrators, but the coaches as well.
"Our tennis coach, our golf coach, our track coach [will benefit] because we are moving to the Western Athletic Conference now; their recruiting conversations are changing, they're getting a chance to talk to kids they haven't had a chance to talk to because we are going to have an affiliation and because we can sell the dream of post-season play in being affiliated with a nationally recognized conference," Schumacher said. "Every conversation with every coach has changed its venue and its ability to communicate, and the message behind the communication [is] to really start to accelerate the process of building championship teams. "
Schumacher is amidst an abundance of newfound excitement as CSU's Athletic Director. However he has made academics a first priority for his athletes with a laser focus on graduating.
"We have honored 75 athletes at our last home game that have a 3.0 GPA or better. We have a great amount of our athletes that are quality students and we are going to continue to raise the bar academically," said Schumacher. "College graduation is our number one priority and winning championships is number two. That's why they call it student-athlete."
Dan Schumacher is passionate about Chicago State and wants to build the athletic department with respect to the university's mission as it pertains to not only achieving scholastic and athletic success but also personal development.
"We have different missions and different focuses that maybe some institutions have here in Chicago but we can still foster the championship feel and the academic scholarly piece as well. I want to respect our mission and the goals of the institution while still finding the best student athletes we can and provide the great collegial experience and championship experience that they deserve," said Schumacher.
By Lee Edwards