Garfield Park Conservatory Celebrates 105 Years
citizen | 3/7/2013, 4:34 p.m.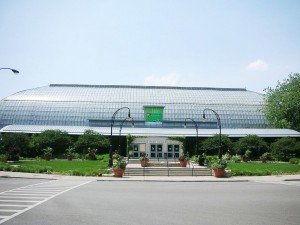 The Garfield Park Conservatory, a staple on Chicago's west side, is now 105 years old.
"In 1905 Jens Jensen created what was intended as "the largest publicly owned conservatory under one roof in the world" in Garfield Park," said Zvezdana Kubat of the Chicago Park District. "His vision and success in building this 'landscape art under glass' continues today with a commitment from the Chicago Park District and Garfield Park Conservatory Alliance, working to change lives through the power of nature and aiming to inspire and educate through innovative programs and special events in one of the nation's largest and finest historic conservatories, provoking curiosity and wonder."
On any given Saturday, 600 to 800 people make their way in and out of the historic site at 300 N. Central Park Ave.
"It's nice to have an outside when you're stuck inside," said Robin Cline, assistant director of programs with the Garfield Park Conservatory.
The largest of Chicago Park District's three botanic gardens facilities, the Garfield Park Conservatory preserves and displays exotic plants from around the world in its 4.5 acres of plant rooms and outdoor space.
It's also one of 10 institutions in the nation to receive last year's National Medal for Museum and Library Service, awarded to educational facilities that "make a difference" in communities.
At no charge, families can walk on winding paths through the glass structured oasis with the warm tropical feel and view various types of exotic plants, palm trees and brightly colored flowers from around the world.
About 30 percent of the visitors come from surrounding neighborhoods, like Austin or East and West Garfield Park, but the other 70 percent come from all over the city of Chicago and its suburbs.
The Conservatory also has a Children's Garden, where kids learn how to plant seeds with the help of a hands-on tutorial.
Each month, Scavenger hunts are held with a specific theme. February's theme was Black History. Families received a list of plant materials to find that depicted African American historical significance, such as "roots" which depicts the importance of cultural and familial ties.
Families can also sing to a plant during the month of March. Different songs are sung to different plants, for example, the two 300-year-old cycad plants have their own special tune.
According to conservatory staff, more families flock to the conservatory during the winter months.
The building, which officially opened in 1908, underwent a multimillion-dollar reconstruction in 1994 to improve its infrastructure including plumbing and heating.
The Conservatory is also popular destination for school field trips.
Upcoming events include:A Great Big Spring Sing-A-Long
Wednesday, March 13
Mark Messing, composer and musical agitator, working with Garfield Park Conservatory staff developed original songs for the sing-along event, culled from the Conservatory's unique plant collection. Join the fun, sing along, and visit all the "sing to a plant" stations posted throughout the Conservatory.
Beer under Glass
Thursday, May 16, 2013
Celebrate the return of spring with the return of Beer under Glass and enjoy the Conservatory at night as you sip inventive brews from some of Chicagoland's hottest craft breweries. Popular local restaurants will serve up tasty small plates, and other surprises to round out the evening.
Also, the broken glass collected in the Conservatory after the 2011 hail storm is being put to good use. Local artists created works of art with the glass, keeping the original whitewash coating intact, which are now on sale in the Gift Shop at the Conservatory. All proceeds from these pieces will help the rebuilding efforts.
For more information about events, please call (312) 746-5100.By Deborah Bayliss