Englewood Organization Gears Up for "So Fresh Saturdays"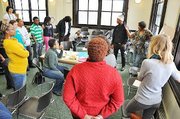 The Resident Association of Greater Englewood aka R.A.G.E., is gearing up for its So Fresh Saturdays, series of summer events.
"It's our way of creating safe spaces and getting people involved and engaged to share information," said Asiaha Butler, founder and current president of R.A.G.E.
So Fresh Saturdays is a community driven "edutainment" series that will showcase various artistic expressions and educational workshops will focus on youth, entrepreneurship, hip hop, media, social networks, community activism, food, movies and culturally relevant history using music, film, and art. The series is also part of the Chicago Park District's Night Out in the Parks designed for all ages in an effort to create a safe space in the parks of various communities.
The goal said Butler is to educate and entertain attendees while providing a "safe space" for the residents on the south and west sides and to utilize art as a form to spark social responsibility and intergenerational dialogue.
"We're mixing it all in," Butler said. "Our membership is made up of a range of people from artists to activists. "Our motto has always been to create safe spaces. There are so many groups like CeaseFire who focus on stopping violence. We have a different approach and a huge component of what we do is "positive disruption" by providing "positive engagement activities." People who are engaged in negative behavior tend to shy away from the spaces we hold our events and so far there have been no violent incidences."
Each event will include but is not limited to: performances from local artists, film showcases, forums, spoken word, art-based workshops, youth café, peace circles, dance, and more.
Tour dates:
• June 29, 4-9 p.m. at Sherwood Park, 5701 S. Shields Ave.
• July 27, 4-9 p.m. at Hamilton Park, 513 W. 72nd St.
• Aug. 10, 4-9 p.m. at Lindblom Park, 6054 S. Damen Ave.
• Aug. 24, 4-9 p.m. finale event at Ogden Park, 6500 S. Racine St.
Residents are encouraged to bring the entire family to the FREE fun-filled Englewood events.
Anyone interested in performing, conducting a workshop, setting up a resource table or volunteering, please call the R.A.G.E. organization at (866) 845-1032 or email to joinrage@gmail.com.