CPS Chief Unveils Five Year Plan
6/13/2013, 2:30 p.m.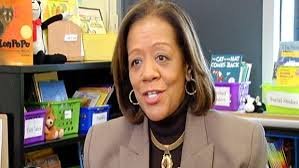 By Deborah Bayliss
Chicago Public Schools (CPS) CEO Barbara Byrd-Bennett, during a Monday afternoon press conference at Westinghouse College Prep, unveiled "The Next Generation: Chicago's Children," a comprehensive, 5-year action plan designed to provide CPS students with a well-rounded instructional program which will enable them to have success in college, a good career and life in general.
 "Westinghouse is an example of a CPS school that works," Byrd Bennett said as she addressed an audience of community and faith-based members who packed the school's auditorium. "We believe all our kids are capable of success. We must hold high expectations and hold all adults accountable (for student success)."
Bryd Bennett's plan is expected to raise CPS's projected 63 percent graduation rate and put students on a path towards a 21st high-quality education."
 Developed based on feedback from Chicago's parents, community members, principals, teachers and civic and faith leaders who have been demanding better educational opportunities, the action plan will act as a roadmap for delivering positive outcomes tied to the District's five strategic pillars which are:
 Pillar 1: High standards, rigorous curriculum and powerful instruction
Designed to raise standards and improve curriculum through a combination of transitioning to Common Core State Standards, setting more rigorous expectations, and putting in place new academic requirements that will provide children with a well-rounded education and will include enhanced professional development for educators and extracurricular activities, afterschool programs, and internships designed to challenge students to think critically, spark creativity, and support students' diverse needs.
 Pillar 2: Deals with systems of support that meet all students' needs.
Pillar 3: Engaged and empowered families and communities
By increasing outreach opportunities and offering more transparent information about the District's work, CPS will encourage active partnerships with parents and families as well as nonprofits and businesses, universities and community groups, faith-based leaders and government officials, and philanthropists and activists.
 Pillar 4: Committed and effective teachers, leaders and staff
To fill vacancies within the system, CPS will seek to promote high-performers while recruiting national candidates. For the professionals already serving in our District, performance will be evaluated more thoughtfully through improved evaluations, professional development will be tailored more specifically to meet schools' and students' needs, and success will be recognized and rewarded.
 Pillar 5: Sound fiscal, operational and accountability systems
A comprehensive accountability system will be put in place to measure performance and progress throughout the District, including in all public schools – neighborhood, charter and contract – and at CPS Central Office. To support the plan's overall goals, CPS will issue an annual District scorecard that incorporates multiple performance metrics, including evaluations of school climate; feedback from parents, school staff, and students; retention rates of high-performing employees; student attendance; academic growth; graduation rates and college enrollment.
 CPS also promises early childhood education investments to Full Day Kindergarten, a full school day, a single school year calendar, and ensuring there are quality principals and teachers in every school.
 "High school graduation is no longer the goal, it is only the starting point," added CEO Byrd-Bennett. "I faced many of the same challenges that our young people face today, but I know that they can triumph if the adults in their life make it their mission to ensure they achieve their dreams."  
Chicago Teachers Union President Karen Lewis released a statement regarding CPS's five-year plan saying, "Our schools communities do not lack inspiration, they lack revenue.  It doesn't matter what new initiatives CPS concocts from year to year if it has no way to appropriately fund them (i.e., the longer school day). Chicago has to break its addiction to tax-breaks and find ways to generate revenue for our schools," Lewis continued. "This so-called five-year plan is once again done in the silo of CPS without any stakeholders at the table. It is still widely driven by testing and a complete lack of democracy. When will CPS understand that having a 'plan' that never includes the voices of parents, students, CPS workers, and a realistic blueprint on how to generate revenue will continue to foster mistrust, alienation and lowered expectations."