Chicago Attorney Could Become First African American and Female U.S. Attorney
citizen | 2/27/2013, 4:11 p.m.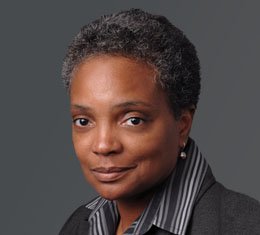 Lori Lightfoot, a partner with the law firm of Mayer Brown, Chicago, could make history as the first African-American and first female U.S. Attorney for the Northern District of Illinois.
Lightfoot is among a list of four finalist chosen as a possible replacement for the post held most recently by Chicago's former federal prosecutor, Patrick Fitzgerald who resigned recently leaving a legacy of putting two Illinois governors and other public officials behind bars.
Lightfoot would not speak publicly but was quoted in an ABC 7 news report last year saying, "I, like many people, was surprised to learn that Pat Fitzgerald has decided to retire. He has left an incredible legacy and enriched the office in countless ways and I was honored to serve under him."
Lightfoot went on to say she was flattered by the calls of support she received.
"The possibility of seeking the honor to serve the citizens of this district as the U.S. Attorney is not one that I would ever consider lightly," Lightfoot said. "I am obviously aware of the fact that no woman or person of color has ever been picked to serve as the U.S. Attorney..."
Lightfoot is no stranger to the U.S. Attorney's office.
As a civil litigator and as Assistant U.S. Attorney in the Criminal Division of the U.S. Attorney's Office, Northern District of Illinois from 1996 to 2002, Lightfoot tried over 20 federal and state jury and bench trials.
She also argued cases in both state and federal appellate courts, and conducted numerous internal investigations.
From 2002 to 2005, Lightfoot worked with the City of Chicago as Interim First Deputy Procurement Officer, Department of Procurement Services (DPS); General Counsel and Chief of Staff, Office of Emergency Management and Communications (OEMC); and Chief Administrator, Office of Professional Standards (OPS) of the Chicago Police Department.
During her time with the OPS, Lightfoot managed a 100-person office of civilian investigators charged with investigating police-involved shootings, allegations of excessive force and other misconduct alleged against Chicago police officers.
As Interim First Deputy Procurement Officer of the City of Chicago's Department of Procurement Services, Lightfoot conducted a department-wide reorganization and reform of DPS business practices and was responsible for redesigning Chicago's minority and women business enterprise program; streamlining the annual $2 billion procurement process budget; developing training curriculum for internal and external use; and creating and implementing vendor and buyer accountability measures.
As Chief of Staff and General Counsel for Chicago's Office of Emergency Management and Communications, Lightfoot oversaw the City's 9-1-1 emergency and non-emergency call systems, emergency response operations, Homeland Security initiatives and related technologies.
In addition to Lightfoot, the list of four finalists include, Zachary Fardon, Jonathan Bunge and Gil Soffer--was recently forwarded to President Obama's administration by U.S. senators, Dick Durbin (D-IL) and Mark Kirk (R-IL), who set-up a screening committee to vet a longer list of prospective candidates over several months that resulted in these four candidates.
Appointing a new U.S. Attorney is technically the job of the president but the responsibility has traditionally fallen to the highest-ranking state official in the party controlling the White House. In Illinois, that role goes to Durbin, who works closely with Kirk on appointments of U.S. attorneys and federal judges in Illinois.
In a letter to the U.S. senators describing interviews with the four, co-chairs of the screen committee wrote, "All share the belief -- though with slightly differing ordering -- that the primary concerns of the office should be: violence and drugs; public corruption; financial crimes, and terrorism."
"If you want to tackle these issues, it might make sense to have someone from Chicago," attorney Gal Pissetzky was quoted saying in an AP news story. "They know the inner workings of Chicago. And law enforcement will be more cooperative when you bring someone from the inside, from Chicago."
Appointing someone with Chicago ties could signal a desire to focus on Chicago crime, such as drug trafficking and gang-related murders, Pissetzky added.
By Deborah Bayliss