Winnie Mandela: Her Life and Legacy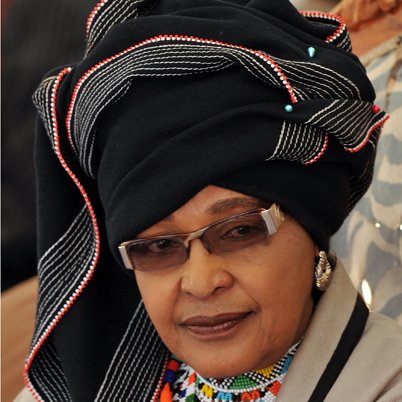 As we commemorate the life and legacy of the late South African President, Nelson Mandela, one has to also acknowledge the woman who played a prominent, political and private role in his life.
Born Nomzamo Winifred Madikizela on Sept. 26, 1936, in Bizana, a rural South African village, she is now famously known worldwide as Winnie Mandela.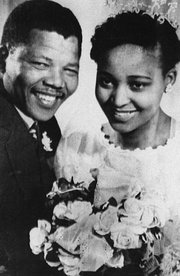 According to a recent article published By Andrew Malone in the UK's Daily Mail that featured information provided by Anthony Sampson, the late British journalists, close friend and Nelson Mandela's official biographer, Mandela first laid eyes on Winnie as she waited at a Soweto bus stop during the time his first marriage was headed for divorce.
Described as "strikingly beautiful," Winnie, a young social worker who moved to Johannesburg in 1953 to study pediatric social work, met Mandela in 1956, and married him in 1958. At the time, obviously unaware that her connection to her new husband would lead to a life played out on a world stage and forever etched in history.

When Winnie met Mandela, he was an attorney and the leader of the African National Congress (ANC), an organization with the goal of ending South Africa's apartheid system of racial segregation. The couple married even though Winnie's father was unhappy about the couple's age difference and Mandela's poignant political involvements. Once married however, Winnie moved into Mandela's home in Soweto and became legally known as Winnie Madikizela-Mandela.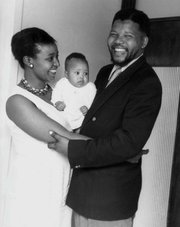 The pair had two children, Zenani and Zindziswa, before Mandela was jailed briefly in 1960 for his opposition to apartheid. But in 1964, Mandela faced the Rivonia Trial which tragically resulted, in a life sentence for him.
The Rivonia Trial played out in South Africa between 1963 and 1964. Ten leaders of the ANC including Mandela were charged with: recruiting persons for training in the preparation and use of explosives and in guerrilla warfare for the purpose of violent revolution and committing acts of sabotage; conspiring to commit these acts and to aid foreign military units when they [hypothetically] invaded the Republic; acting in these ways to further the objects of communism; and soliciting and receiving money for these purposes from sympathizers outside South Africa.
During Mandela's imprisonment on Robben Island, Winnie, who suffered repeated arrests for her role in township uprisings, an eventual house arrest in 1977 and banishment to a remote town where she reportedly was constantly harassed by the South African government, became a global figure and vocal apartheid opponent.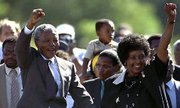 Following Mandela's release from prison in 1990, Winnie initially shared in his political activities and trips abroad. But in May 1991, she was convicted and sentenced to six years in prison for kidnapping, a sentence that was later reduced to a fine.
Winnie's political comeback occurred in 1993 with her election to the presidency of the African National Congress Women's League, and in 1994 was elected to Parliament and appointed deputy minister of arts, culture, science, and technology in South Africa's first multiracial government, headed by her husband.
Winnie's continued controversy that included appeals to radical young black followers, led to her expulsion in 1995 from Mandela's cabinet. She and Mandela separated in 1992, finally divorcing in 1996.
Re-elected to Parliament in 1999, Winnie resigned in 2003. Following a conviction on charges of fraud and theft that stemmed from her involvement with fraudulently obtained bank loans, many of which benefited economically disadvantaged persons, Winnie was partially vindicated a year later when the conviction for theft was overturned because she did not gain personally from her actions.
Though she was no longer married to the late Nelson Mandela, Winnie, an icon in her own right, will be forever revered as an inspirational leader, activist and political figure.