The Rev. Jesse Jackson March on Washington: Then and Now
Lee Edwards | 8/28/2013, 3:20 p.m.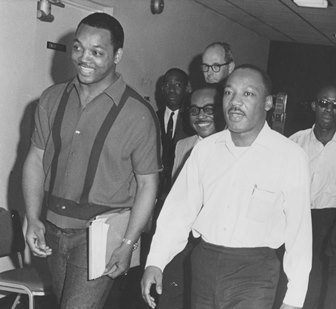 On August 28, 1963, the Rev. Jesse Jackson, participated in the March on Washington as a member of the Southern Christian Leadership Conference (SCLC) led by Dr. Martin Luther King Jr. Then, a very young Rev. Jackson was fighting for voting rights, public accommodation equality, jobs, and to stem the tide of uncontested violence against African Americans and their supporters. And in nearly 50 years since that historic day, Rev. Jackson has tirelessly continued to fight and advocate for civil rights for all Americans.

The Chicago Citizen Newspaper recently spoke to Rev. Jackson, now the founder and leader of his own organization, Rainbow/PUSH Coalition (a multi-racial, multi-issue, international organization fighting for social change) about issues facing African Americans today versus 50 years ago:
Chicago Citizen Newspaper: Describe the March on Washington 50 years ago
Rev. Jesse Jackson: In 1963, we were living in hunger, racial anarchy; we had no rights, essentially in the South Whites had all the respect, we couldn't use public facilities. I was arrested for using the public library. We couldn't rent a room in Holiday Inn. The day that march [happened] in 1963, [Washington D.C.] was under military lockdown. The National Guard was patrolling the airport, train station and bus station fearful of a riot.
Chicago Citizen Newspaper: How were you feeling about the march in 1963? How are you feeling about this march now?

Rev. Jesse Jackson: [I was] feeling some anxiety to overcome the humiliation, the humiliating conditions of which we lived. And today, all of what we fought for to stand in jeopardy, voting rights protection for North Carolina; I'm leading the charge to take voting precincts off of campuses, I'm leading the charge for birth certificates.
Chicago Citizen Newspaper: In your opinion, what was its impact?
We had to leave Washington [D.C] in [1963] and go home to fight. The motivation of [1963 was] to fight for the civil rights bills of [1964 and 1965]. We had to go back home and fight; it motivated us to activism. We went home and fought for basic civil rights protection. The bill of [1964] was for public accommodations, the bill of [1965] was the Voting Rights Act, Chicago in [1966] was about housing, [1967] was campaigning to end the war in Vietnam.

Chicago Citizen Newspaper: Compare the issues facing African Americans during the march in 1963 with the issues facing us during this current march.
Rev. Jesse Jackson: Now we're free but not equal. In [1963] the issue was separation between the races, now there's a disparity. Health care disparities, sometimes its hospitals. The gaps between the "haves" and the "have nots"; those who live in a surplus and those who live in a deficient, those gaps are pronounced.

Chicago Citizen Newspaper: Describe the importance of the clergy in both marches.
Rev. Jesse Jackson: Most Black clergy have a solid base of organized black people in the community; so they have both set the moral tone as well as having the constituency.

Chicago Citizen Newspaper: What issues is Rainbow Push Coalition focusing on?
Rev. Jesse Jackson: Now the Voting Rights Act is in jeopardy. We need an amendment of the Constitution for the Constitutional right to vote but now we have the state's right to vote and every state has a different variation. We're in the same place, amending the Constitution so that we may have the protected right to vote which the Supreme Court challenged [and] attacked again last month.
Chicago Citizen Newspaper: Are there other issues?
Rev. Jesse Jackson: Too many poor people, too much violence, too much war. [We want] in the private sector, our share of business, our share of contracts. We have 22,000 auto dealerships, only 200 are black [owned]. In the end, there are only 4,000 dealers and 36 are black [owned].
We must pick up where Dr. King left off.