Dr. King's Chicago Stay
8/28/2013, 3:58 p.m.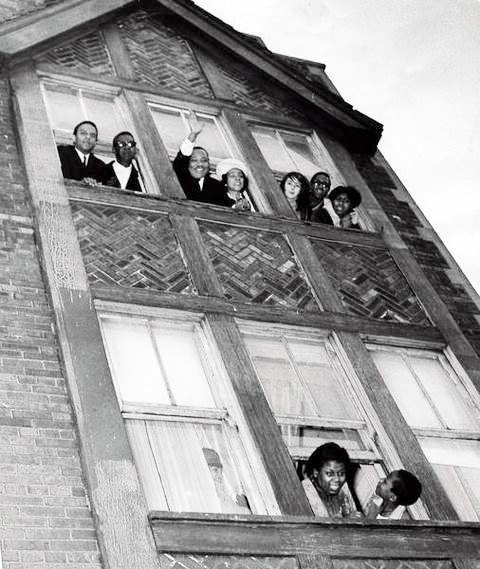 On January 26, 1966, Dr. Martin Luther King Jr. moved with his wife Coretta and their four children to a third floor apartment at 1550 South Hamlin in the North Lawndale community of Chicago. From North Lawndale, King launched what he called the "action phase" of his agenda. The Chicago campaign was focused on (highlighting) racism as a national issue. He led marchers into the Marquette Park and Cicero neighborhoods and declared that "I have never in my life seen such hate … not in Mississippi or Alabama." He also came to Chicago to show the deplorable living conditions and poverty of African-Americans in the urban north and to display the segregation of housing in northern cities. The 1550 S. Hamlin location was the only place in the North Dr. King ever lived.
Account of King's Marquette Park march as related in a story from the Chicago Tribune newspaper on August 5, 1966:
It was a muggy Friday afternoon in 1966 as Dr. Martin Luther King Jr. stepped out of a car that brought him to Marquette Park on Chicago's Southwest Side to lead a march of about 700 people. The civil-rights leader and his supporters were in the white ethnic enclave to protest housing segregation. Thousands of jeering, taunting whites had gathered. The mood was ominous. One placard read: "King would look good with a knife in his back."
As King marched, someone hurled a stone striking King on the head. Stunned, he fell to one knee. He stayed on the ground for several seconds. As he stood up, aides and bodyguards surrounded him to protect him from the rocks, bottles and firecrackers that rained down on the demonstrators. King was one of 30 people who were injured; the disturbance resulted in 40 arrests. King later explained why he put himself at risk: "I have to do this--to expose myself--to bring this hate into the open." He had done that before, but Chicago was different. "I have seen many demonstrations in the South, but I have never seen anything so hostile and so hateful as I've seen here today," he said.
Today, a taskforce of community organizations that includes the Lawndale Christian Development Corporation, Safeway Companies, Westside Federation, Chicago Youth Centers, and Marcy-Newberry Association, Inc., joined together to create a space honoring Dr. King's dream for North Lawndale in the area where he once resided.
The MLK Memorial District was created. The goal was to create a living legacy to Dr. King's fair housing campaign and mark his time in Chicago.
The multiphase project includes an arts and technology center, a public library and a new campus park for Penn Elementary School. Key to the project was the construction of affordable rental apartments that opened in 2011 on the site where King once lived. The MLK Fair Housing Exhibit Center is housed on the ground level in the MLK Legacy Apartments.