Circuit Court Clerk Dorothy Brown Announces New Mobile App
citizen | 4/10/2013, 1:20 p.m.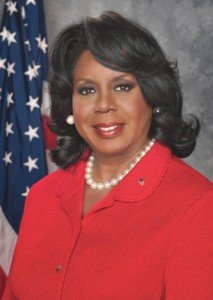 Dorothy Brown, Clerk of the Circuit Court of Cook County, announced last month a new Mobile App designed to put a wealth of court-related information at the user's fingertips. The new application allows users to search a person's name and therefore find all existing civil cases that person has in any Cook County court division. Users can employ the app to search via court dockett numbers (this excludes any criminal case searches) and it also allows access to search the court's traffic ticket database.
In addition, the new app named, Court Clerk Mobile Connect, features court call searches, updated fee schedules, Google maps to locate facilities, and the ability to email and call a Cook County Court Division directly.
According to a press release, Clerk Brown met with her technology team to discuss the development and implementation of a mobile app several months ago. The tech-savvy staff responded by designing the Court Clerk Mobile Connect in-house, which was less costly than outsourcing the job, ultimately saving tax payers money.
"I am so proud of this new technology venture which was designed in-house by our MIS Department, saving thousands of dollars. It was designed to make it convenient for citizens to access court record information while on-the-go rather than waiting until they return to their computers at home or in their offices--It's access to justice on your phone," said Clerk Dorothy Brown.
The Court Clerk Mobile Connect app was designed to make information available more quickly and easily to Cook County residents. The free app is reportedly easy to use and can be downloaded for use on an Android phone, iPhone, iPad or iPod Touch.
From the beginning of her first term, Clerk Brown set a mandate to bring 21st Century technology to her office with the goal of creating a more automated court system. So far she has added e-filing, e-tickets, and e-warrants to the Cook County courts system.
To install the new Court Clerk Mobile Connect app go to: https://play.google.com/store/apps/details?id=org.cookcountyclerkofcourt.CourtClerkmConnect
To install from iTunes go to: https://itunes.apple.com/us/app/id595694855
By Larissa M. Tyler