Peace Tourney Puts Rival Gangs, NBA Stars on Same Court
citizen | 9/26/2012, 4:31 p.m.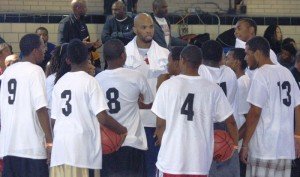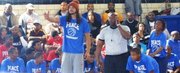 Any other time a forearm to the chest or a scramble on the floor with a rival gang member could lead to fisticuffs or worse, an exchange of gunfire.
But not Saturday in the gymnasium of St. Sabina Catholic church in the Auburn Gresham community. Members of different gangs who often fight on the streets over turfs and have other beefs, came together for an event that St. Sabina pastor, Rev. Michael Pfleger, called historic and the first of its kind.
There were no scuffles or other incidents in the Peace Tournament sponsored by St. Sabina, which also featured NBA players as coaches. Chicago Bulls center Joakim Noah, Bulls power forward Taj Gibson, and NBA legend Isaiah Thomas served as coaches and mentors for the young men. Injured Bulls star player and former Englewood resident Derrick Rose showed up unannounced and offered some camaraderie and pointers from the sideline.
Pfleger said the idea for the tournament came from a discussion he had with Thomas, who hails from the West Side. The former Detroit Pistons icon wanted to do something to address the citys rampant gun and gang violence. From there, Pfleger said, Noah followed suit by calling the priest to ask what he could do.
This is the best thing we ever had happen here. Its people coming together as a family different organizations, different neighborhoods. Everybody said it wouldnt happen, everybody said it couldnt happen, everybody told me I was crazy to do it, Pfleger told the Chicago Citizen. We have people who shoot each other coming together and playing ball, laughing, talking and enjoying each other.
This is the best church experience Ive ever had, the priest added.
Known affectionately as Father Mike, hes hoping that the event would be an impetus to turn this thing around as far as the gang-related shootings and killings are concerned. The police blame this years 35 percent uptick in shootings and homicides on gang warfare.
All games aside, Pfleger and other organizers of Saturdays game which also featured real NBA referees and an appearance by the Luvabulls cheer squad said the young men need jobs and other resources to help pull them from the streets. At least one player could attest to that.
Brandon Gayden used to run with the Gangster Disciples when he was 15 and lived near 64th and Sangamon. He said his boys and some other guys he looked up to introduced him to gang life and it filled a void caused by him not having a father figure around.
They showed me love. They made me feel a part of something, said Gayden whose Englewood team wore white shirts and went on to win the tournament in a double-overtime sudden death. He played shooting guard and small forward.
Four years ago he left that life and moved to the south suburbs. He returned Saturday to play in the tournament as a favor to a relative who works with CeaseFire, the taxpayer-funded gang intermediary that operates out of the University of Chicago.