Illinois Tollway Expands Advisory Council To Assist With Diversity Council
citizen | 9/26/2012, 4:15 p.m.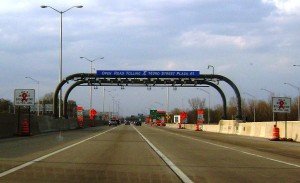 DOWNERS GROVE, IL The Illinois Tollway is reconvening its Earned Credit Program (ECP) Advisory Council and welcoming nine new members as the agency works to expand its panel of experts assisting with diversity outreach efforts through the 15-year, $12 billion capital program, Move Illinois: The Illinois Tollway Driving the Future.
The ECP is a rewards initiative that allows contractors and subcontractors to earn bid credits toward future Tollway construction bids when they hire from a pool of qualified, pre-screened job candidates, including underemployed African-Americans, Latinos, Asian-Americans, women, ex-offenders and veterans.
The Earned Credit Program is a win-win for contractors and subcontractors and for job seekers who are looking for hands-on work experience, said Illinois Tollway Executive Director and ECP Advisory Council Chair Kristi Lafleur. The Tollway serves as a conduit to refer job candidates for hiring by contractors, who then earn bid credits that can increase the chances of winning a contract as the low bidder.
Since the program began, 21 construction contractors and subcontractors who have worked with the Illinois Tollway have hired and employed more than 100 ECP workers most of whom now have union status. The ECP is part of an effort to diversify and expand the pool of firms and individuals doing business with the Illinois Tollway.
The new ECP Advisory Council will hold its first meeting today to discuss ways to more effectively promote the program, identify job candidate training needs and find ways to enhance union and apprenticeship programs. The council includes contractors and subcontractors, union representatives, training associations, as well as community partners and leaders.
We value the expertise and insight these advisors bring, said Lafleur. Expanding this group will ensure that we are reaching potential job candidates and contractors across the Illinois Tollway system.
New members of the ECP Advisory Council include:
Acura Inc.
Christy Webber Landscapes
Illinois Black Chamber of Commerce
Illinois Community College Board
Illinois Department of Veterans Affairs
Moraine Valley Community College
Prairie State College
South Suburban College
The Link & Option Center Inc.
Earned Credit Program Advisory Council - page 2
Other ECP Advisory Council members include:
Black Contractors United
Chicago & Cook County Building & Construction Trades Council
Chicago Urban League
Chicago Women in Trades
Construction & General Laborers District Council of Chicago & Vicinity
Dawson Technical Institute
F.H. Paschen
GFS Fence, Guardrail & Signage, Inc.
Hispanic American Construction Industry Association
IFI Group
Illinois Department of Employment Security
Illinois Department of Transportation
Lorig Construction Company
Operating Engineers Local 150
Plote Construction Inc.
Quad County Urban League
Walsh Construction Co.
William Charles Construction
YouthBuild Lake County
All members of the ECP Advisory Council are required to serve a minimum two-year term. The Council is expected to meet quarterly.
The Illinois Tollway remains focused on promoting, assisting and ensuring diverse participation in all aspects of Tollway operations, including contracting, consulting and the supply of goods and services. In addition to the ECP, the Illinois Tollway provides opportunities for disadvantaged, minority- and women-owned business enterprises, as well as underemployed individuals, through other programs including the Disadvantaged Business Enterprise (DBE) Program, Equal Employment Opportunity (EEO) Program and the Mentor/Protg Program.
To view a video about the Tollways Earned Credit Program or for more information about the Illinois Tollways diversity efforts visit www.illinoistollway.com.
Source: Illinoistollway.com