Mothers Grieve Slain Children, Pray For Peace
citizen | 5/17/2012, 4:05 p.m.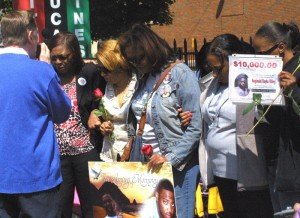 Several mothers gathered Sunday at a memorial wall outside of St. Sabina Catholic church in the Auburn-Gresham community clutching photos of their slain children and holding on to memories of them at a Mothers Day commemoration that called on communities to stop harboring criminals.
The mothers spoke briefly before Rev. Michael Pfleger, pastor of St. Sabina, led them on a short anti-violence march near the church.
I just want to tell the mothers whose children are alive, hold them tight and kiss them often, a tearful Yvette Leyva said. She is still grieving the loss of her son Cordea Leyva.
Mary Long said the pain of losing a child, especially to violence, is overbearing. She lost her son Eric Williams in March when he was shot to death after leaving a fast food restaurant.
My hope is that everyone can hear our cry, Long said. We need everyone to help us address this issue of rampant violence.
Marsha Lees son was gunned down in south suburban Harvey. She made an appeal to President Barack Obama and First Lady Michelle Obama to put more emphasis on gun violence. She said the first lady should be as outspoken on that issue as she is on healthy eating and fitness.
It does no good for (our children) to eat healthy when they cant walk the street, Lee said.
In remembrance of their late children, each of the mothers at the memorial vigil released a pink balloon with their childs name on in it. Pfleger closed the memorial by praying with the mothers.
By Rhonda Gillespie