Beauty Industry Pioneers Honored
citizen | 7/18/2012, 4:52 p.m.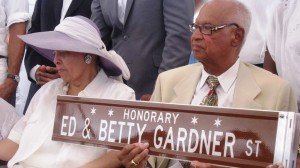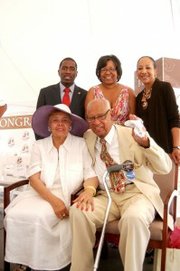 Ed and Betty Gardner, the driving force behind Soft Sheen Products were honored last Thursday with a street naming dedication ceremony not too far from where their company was once located.
The new signage will hang at 87th and Dobson near the site of the former home of Soft Sheen Products.
Soft Sheen started as a garage-based business and grew to an international empire that influenced how people all over the world beautified themselves.
The Gardners married in 1950 and from their union four children were born. Three boys and one girl: Gary, Guy, Tracy and Terri.
As the Gardner family began to grow, Mr. Gardner, an educator by profession, began to seek other avenues to generate additional income. So he worked as a part time salesman selling beauty products to salons.
At some point during his tenure as a salesman, Mr. Gardner learned that Black salons were unhappy with the limited supply of beauty products available to the African American consumer and therefore decided to take matters into his own hands. The entrepreneur created Soft Sheens first Hair and Scalp conditioner.
The product wasnt exactly an overnight success but after taking advice from hairstylists and others in the industry, Gardner was able to eventually tweak the formula to perfection.
While Mr. Gardner worked the field and perfected new hair products, Mrs. Gardner ran the operations of their budding business by balancing books and purchasing supplies.
Soft Sheen Products officially launched in 1964 while Mr. Gardner was still an assistant principal at a local school. He eventually resigned from the position to wholeheartedly focus on the familys business and launch the line nationwide.
As the years went by, the Gardners continued to work hard and Soft Sheen flourished. They eventually moved into an old factory at 87th and Dobson and renovated the building that would become Soft Sheens new campus.
Outside of their business, the Gardners remained staunch community activists being actively involved in Harold Washingtons mayoral campaigns for example and together were members of several organizations including the Chicago Urban League and Chicago United.
In the early 1980s Mr. Gardner founded Black on Black Love an organization tailored towards curtailing violence in Chicago. The grassroots organization has been a staple in Chicagos activist community for decades.
On Thursday, the lives and efforts of these civic pillars were celebrated by hundreds of people including dignitaries, public officials, and former Soft Sheen employees.
Ald. Michelle Harris (8th) praised the Gardners saying that they are the epitome of what an African American entrepreneur is.
The Rev. Michael L. Pfleger of St. Sabina Church said the Gardners warned of the impending violence in Chicago years agobut their pleas fell on deaf ears.
Had America and those in power listened to the Gardners we wouldnt have the murder in our streets that we have right now, if theyd listen to your voice. When you not only told us not to hurt and harm each other but to love each other You were trying to pastor us and nobody was ready to hear it, Pfleger said.
You dont replace crime by keep on adding more policemen, Mr. Gardner said of the problem. You replace crime by realizing that as a mother and as a father you have a responsibility to do all you can to give that child the best chance for a happy life. Keep in mind the child is an extension of youeverything that they do is a reflection of you.
Mr. Gardner told the Chicago Citizen that he and Mrs. Gardner are blessed to have been honored for their many contributions over the years. But he says while the couple were busy making their imprint, they had no idea they affected so many people.
Our purpose in this world wasnt to make money, wasnt to build a gigantic factory and hire a lot of people, Mr. Gardner said. Our purpose in life was to do all we possibly can that God (put) us here to do to make life better for all human beings.
After over 30 years of business, the Gardners sold Soft Sheen Products to LOreal. The Gardners are still active in the community today and enjoy spending time with their seven grandchildren.
By Thelma Sardin