Male fashion forecast predicts business attire
admin | 1/25/2012, 6:25 a.m.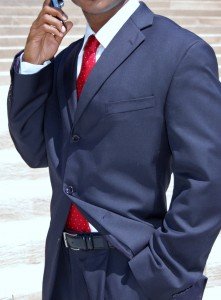 MILAN - Gentlemen, things are going to get serious next fall and winter.
It could be the crisis gloom, but many Milan designers are thinking business. Double-breasted suits are a favorite in preview shows. As are flat leather bags, good for computers, or even newspapers.
Shoes are classics, oxford lace-ups, loafers, fringed moccasins or ankle boots, often with silver accents.
Suits are tailored, and colors are dark and sober, with luxury expressed mostly through the materials alpaca, cashmere and tweeds. There is little sportswear in this round of Milan menswear with the overcoat making an elegant comeback.
Scarves are also making a strong showing a layer of security, not only against the bitter winter nights but also the financial chill. APAssociated Press text, photo and/or graphic material shall not be published, broadcast, rewritten for broadcast or publication or redistributed directly or indirectly in any medium. Neither these AP Materials nor any portion thereof may be stored in a computer except for personal and non-commercial use. The AP will not be held liable for any delays, inaccuracies, errors or omissions therefrom or in the transmission or delivery of all or any part thereof or for any damages arising from any of the foregoing.By DANIELA PETROFF and COLLEEN BARRY