Ameriville
admin | 1/25/2012, 5:25 a.m.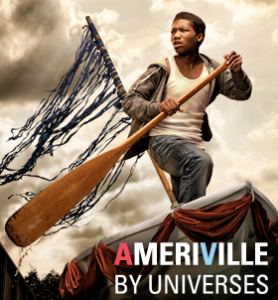 Using Hurricane Katrina as a jumping off point, Ameriville is a highly entertaining performance piece fusing hip-hop, poetry, flamenco, stand-up comedy, music and spoken word. Universes weaves this electrifying 90-minute theatrical exploration of race, class, poverty, immigration and political awareness into a great adventure about what it means to be American.
Date: Friday, January 27, 2012
Time: 7:30 9:30p.m., 4pm Saturday Matinee
Location: Victory Gardens Biograph Theater, 2433 North Lincoln, Chicago
Cost: $20-50
Contact: (773) 871-3000
Info: victorygardens.org
Eric Roberson
Inspiring, humble, eclectic, and daring. These are just a few of the words that describe Blue Erro Souls acclaimed singer, songwriter, and producer, Eric Roberson. For the past fifteen years, Roberson, also known as Erro by adoring family, friends, and fans, has remained a prevalent force in todays music. Elements ranging from Soul, Rhythm & Blues, House, hip-hop and more can be detected throughout Robersons original and contemporary sound- not allowing him to be confined or limited to any one of these genres.Date: Wednesday, January 25, 2012
Time: 8:00p.m.2:00 a.m., Concert starts at 9pm
Location: The Shrine, 2109 S. Wabash Ave, Chicago
Cost: $30; Advance, $25Contact: (312) 753-5700Info: theshrinechicago.com
nextStep Education Classes: Who's on First? Process Mapping Your Operations
Learn how to think through and map out the processes essential for running and building a successful business. Discover the methods which improve your bottom line and maximize your capacity for more business.
Date: Thursday, January 26, 2012
Time: 6:00p.m. 8:00p.m.
Location: Chicago Urban League, 4510 S Michigan Ave, Chicago
Cost: FreeContact: entrepreneurshipcenter@thechicagourbanleague.org, (Provide Name, Daytime Phone, Email and Address)
Info:www.thechicagourbanleague.org
Invisible ManI am an invisible man. In this world premiere stage production, the first authorized by The Ralph and Fanny Ellison Charitable Trust, a landmark American novel comes to life. Ralph Ellisons classic story of a young African Americans search for his identity blazes with luminous theatricality and truth. Adapted by Oscar-nominated filmmaker Oren Jacoby, Invisible Man marks the first Chicago appearance by award-winning New York City director Christopher McElroen, a co-founder of the Classical Theatre of Harlem.
Date: Friday, January 27, 2012
Time: 8:00p.m.10:30p.m.
Location: Court Theatre, 5535 S. Ellis Avenue, Chicago
Cost: $45-65Contact: (773) 753-4472
Info: www.courttheatre.org
Homewood Community Blood Drive
Cause and Effect: You Give and People Live, consider donating blood on the morning of February 4. Participants receive an exclusive t-shirt as a token of appreciation. Walk-ins welcomed, photo identification required to donate blood.
Date: Saturday, February 4, 2012
Time: 7:30 a.m. - 11:30 a.m.
Location: Marie Irwin Community Center, 18120 Highland Avenue, Homewood
Cost: Free
Contact: Laura @ 708-890-4425
Info: www.heartlandbc.org
South Side resident featured in museum exhibit
Sura P. DuPart, sculpture artist will be featured in the Black Creativity 2012-Powerful African Americans in energy exhibit at the Museum of Science and Industry.
Date: January 25- February 29, 2012
Time: 9:30 a.m.-4:00 p.m. daily
Location: 57th Street and Lake Shore Drive, Chicago
Cost: general admission $15 adult, $10 child
Contact: (773) 684-1414
Info: www.msichicago.org
6th Ward Alderman, Roderick Sawyer
On Friday, January 27, the Sixth Ward Democratic Organization will host a fundraiser to elect Ald. Roderick T. Sawyer Democratic Committeeman. The event will be held at the St. John Grand Lodge on 7443 S. Ingleside from 5 to 9 p.m. Please come out and support the Sixth Ward Democratic Organization. For more information, call (773) 245-6936.
Date: Friday, January, 27, 2012
Time: 5:00 p.m.-9:00 p.m.Location:
John Grand Lodge
7443 S. Ingleside, Chicago
Cost: Free
Contact: 773-245-6936