Pianist Reflects on Kings Influence
citizen | 1/13/2012, 1:44 p.m.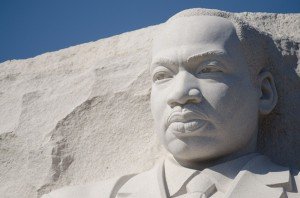 Since hes been a classical pianist, traveling around the world and playing at prestigious music venues, 47-year-old Alvin Waddles has never faced being shut out of a venue or been made to enter through a back door because of his skin color.
Each time he has played for the multi-cultural, multi-ethnic audience that turns out to enjoy the Too Hot to Handel: The Jazz-Gospel Messiah production, Waddles has been well received --- cheered and given a hearty ovation.
But he knows that it was the work of men like Dr. Martin Luther King Jr. who helped bring and end to the overt segregation that gave rise to the Civil Rights Movement in this country.
Too Hot to Handel: The Jazz-Gospel Messiah, coming to the Auditorium Theatre of Roosevelt University for its seventh year Saturday and Sunday in honor of Dr. King, is a vibrant celebration that blends several genres of music, including jazz, gospel and classical, offering the audience an experience of unity in music. The full production includes an orchestra, soloists Rodrick Dixon (tenor), his wife, Alfreda Burke (soprano) and Karen Marie Richardson (tenor), along with the crowd-pleasing Too Hot Choir. Suzanne Acton conducts.
The spotlight turns to Waddles toward the end of the performance where he does a piano solo leading up to the finale where the choir sings Handels Messiah.
Kings legacy of unity and harmony plays front and center throughout the production, including during Waddles solo that inspires the crowd.
The Detroit-native said the production is intrinsic to what Dr. King stood for.
The idea of taking a classical form, a very traditional piece and such a well known piece (Handels Messiah) and taking through gospel and jazz and R&B and just so many types of genres, I found it appealing, said Waddles, who has been playing the piano since he was 8 years old.
Messiah pays homage to Christ and is heralded as a masterpiece, usually performed during Christmas time. This production, however, is performed to celebrate the birth of a civil rights leader who became a martyr for humanity. King was born Jan. 15, 1929 in Atlanta. The King Holiday is observed nationally on the second Monday in January.
I didnt understand it at first, Waddles said of performing Handels piece for the King holiday. But because we use so many different styles in it, it speaks to such a broad cross-section of people and ultimately brings them together over a common type of celebration.
Waddles said the blending of music styles in the Too Hot production is very King-like.
I just think the whole idea of bringing people together from all different cultures that was his whole thing. You dont have to necessarily believe exactly the same thing, you just have to respect one another and come together out of a common love for humanity and celebrate, he said.
Music often has a universal appeal that can sometimes transcend many issues, Waddles said. But racism and discrimination has reared its head in that art form, as it has in other ways in society.
Im very much aware of the fact that not too long ago I probably wouldnt even have been able to buy a ticket to see something at the Auditorium Theatre and here I am on stage performing, sharing this experience with so many people. Its a great honor. Its a great tribute to what the work of Dr. King has allowed us to become as a people, as a nation, Waddles said.
But if he could have a conversation with King, Waddles said he would express his gratitude.
First of all I would say thank you. He was such a gifted man and an anointed person. He could have done so many things with his gifts, but he basically Christ-like laid down his life for what he believed in, he said. I would assure him that we still hear him. Were still listening and on some level, were still trying. We havent forgotten.
By Rhonda Gillespie