Chicago Heights Non-profit Honors King By Helping Others
citizen | 1/11/2012, 4:36 p.m.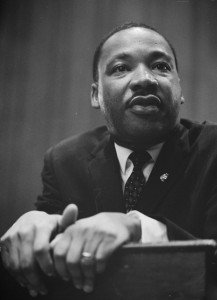 Habitat for Humanity Chicago South Suburbs volunteers will spend the Dr. Martin Luther King Jr. holiday by helping others in need.
On Jan. 16, employees of the non-profit organization and AmeriCorps volunteers will paint several rooms at SouthSTAR Services in Chicago Heights.
According to SouthSTARs website, its mission is to provide choices and opportunities for persons with developmental disabilities, which enrich their lives and maximize independence in their pursuit of vocation, community living and social integration.
SouthSTAR Services owns five living facilities in the South Suburbs and services over 400 individuals in Illinois and Indiana.
David Tracy, Habitats executive director, recently explained to the Chicago Citizen why Habitat volunteers during MLK day observance.
We like to every year, give back something extra to the community. Although we will all be off that day we are going to join together to help another non-profit improve their facility, said Tracy.
Tracy said Habitat volunteers in the community every MLK day and wanted to help a fellow non-profit this year.
We were looking for someone who gives back to the community and SouthSTAR does wonderful things for the disabled, Tracy said. We learned they need rooms brightened and freshened up.
The paint for the service project is donated by Valspar.
The executive director adds that volunteering is an easy task that will leave a lasting effect on participants.
Its a real simple thing to do to make everyone feel better and will make SouthSTAR shine a little more, said Tracy.
Habitat for Humanity is a Christian housing ministry that was founded in 1976. Its purpose is to eradicate poverty housing and homelessness from the world. The organization has helped build over 500,000 homes and served more than two million people around the world, according to its website.
Because of its religious background, Tracy said Dr. King and his mission holds great value to the non-profit. Habitat for Humanity is headquartered in Atlanta, Kings birthplace.
We are a Christian-based ministry so any pastor has a special place in our hearts. Dr. King obviously rises to a higher echelon because of all he did for mankind, Tracy said.
For more information about the MLK Day event or sign-up to volunteer please contact Terrhonda Hudson at 708-756-2015 or visit Habitats website www.gohabitat.net.
by Thelma SardinTwitter: @thelmasardin