Aldermen Visits CBA Monthly Meeting
citizen | 1/11/2012, 12:30 p.m.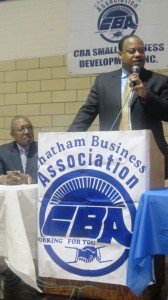 Members of the Chatham Business Association gathered Tuesday morning for its monthly membership meeting.
CBA is the service provider for Special Service Area (SSA) #51 which is located in Chicagos Chatham area. The purpose of an SSA is to promote economic development and neighborhood enhancements by strengthening and supporting community businesses. This is typically accomplished through security, beautification and marketing initiatives through.
Currently, Chicago has over 50 active SSA programs.
Ald. Roderick Sawyer (6th), the featured guest speaker at the meeting said that he supports SSA #51.
I am particularly happy with what the SSAs are doing throughout the City of Chicago. Particularly our new SSA, SSA #51, Sawyer said.
The 6th Ward alderman said another reason why he supports SSA #51 is because of its security team that patrols the community. As the police department operates with low manpower, Sawyer says SSA #51 is a great supplement for the community.
Sawyer also discussed the city councils current remapping issue.
Black and Latino Aldermanic Caucuses are vocally adamant about how their respective wards should be charted.
Some aldermen stand to forfeit valuable community institutions like schools and hospitals. For example, the 6th Ward could lose Chicago State University depending on the results of the remapping process.
Sawyer says the Black Aldermanic Caucus will remain united throughout the process.
A lot of us are looking at the map drawing process and its frustrating. Were not getting the areas that we all would like to get, which is especially frustrating when youre talking to residents that you are about to lose, the 6th Ward alderman said.
Ald. Michelle Harris (8th) also spoke during the meeting and discussed plans for an upcoming Metra project. The initiative will enhance transportation and renovate Metra stations in the area.
Harris also announced that Melinda Kelly, CBAs executive director will work on a special taskforce to ensure various opportunities are coming to the community.
by Thelma SardinTwitter: @thelmasardin