New Candy Shop Set to Open in Hyde Park
citizen | 2/29/2012, 5:06 p.m.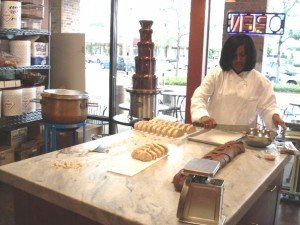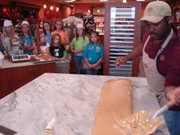 This fall, something sweet is coming to Hyde Parks 53rd Street Corridor. Business partners and community residents Jackie Jackson and Kenneth Faulkner recently finalized leasing arrangements with the University of Chicago to bring a Kilwins ice cream and candy shop to the area.
The Hyde Park store is the second Kilwins location for the duo; they own another shop on the North Side in the Old Town neighborhood.
Kilwins is a national 64-year-old confectionary franchise known for its chocolates, truffles, caramels and fudge.
Jackson said one of the main reasons she wanted to open the store was because of the redevelopment thats happening in the Hyde Park area.
We see whats going on with the redevelopment and revitalization of the community and we just thought it was very exciting and wanted to be a part of it, Jackson told the Chicago Citizen.
The new location will be located 5226 S. Harper Ave. and is slated to open in late September or early October.
Those familiar with the Kilwins Old Town location will be happy to know that the new Hyde Park location will also make confections in the store window for public view.
The key thing is we make just about everything right in the store right before your eyes on a marble table, Jackson said.
The store will also bring jobs to the community. The owners anticipate hiring 15-18 people during the summer months. Depending on sales, the store may hire about 12 people for the winter.
Jackson said she plans to attract business by canvassing the neighborhood and through word of mouth.
Already weve seen a surge of interest from residents, from students, from various people whove already been interested in Kilwins. People are very excited, said Wendy Parks, University of Chicago spokeswoman.
Fourth Ward Alderman Will Burns is also excited about the store opening.
I welcome the opening of Kilwins on 53rd Street, said Ald. Burns. As a minority- and woman-owned business, Kilwins adds to the diversity of the retailers on 53rd Street. As we move forward with the continued redevelopment of the 53rd Street retail corridor, shops like Ms. Jacksons, and others, will play an important role in the vitality of Hyde Park.
Jackson is a former real estate agent and Faulkner is a licensed electrician.
The business duo opened the Old Town location October 2010 after noticing the dismal real estate markets outlook. While vacationing, they stumbled upon a Kilwins store and knew that was their next entrepreneurial avenue.
Immediately, I told Ken This is what we want to do, said Jackson.
Jackson said watching Oprah Winfreys Oprahs Lifeclass show inspired her to aim for opening another Kilwins location.
The shows theme of hope and perseverance resonated with her.
As a result, Jackson began having viewing parties for the show at the Old Town store and she received a surprise.
I started having Lifeclass viewing parties at my store and Oprah found out about it and she wanted to meet me and Ken, she said.
Last October, Jackson and some of her employees appeared as guests via Skype on an episode of Lifeclass.
Since then, Jackson said she has received a tweet from Gayle King, Winfreys best friend and co-anchor of CBS This Morning. According to Jackson, King is interested in attending a viewing party at Jacksons store. The business owner is excited to receive feedback from successful African American women such as Winfrey and King.
That was very gratifying just to have these people reaching out to me, Jackson said.
Jackson advises other African Americans interested in owning a business to follow their hearts.
No matter how difficult it may seem, if you have the passion and faith, it can come to fruition. I say that because I am a living witness, she said.'
by Thelma Sardin
Twitter: @thelmasardin