Tuskegee Airman Fears For Future Of Black history
citizen | 2/16/2012, 5:20 p.m.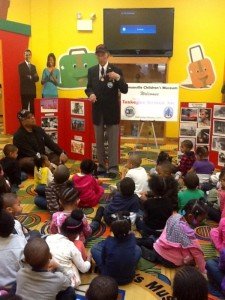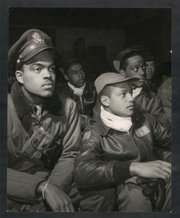 Liaison Pilot Maj. Welton I. Taylor, 92, made an appearance at the Bronzeville Children's Museum Feb. 1, as a part of its Black History Month celebration.
After speaking to a group of 3-year-old children from the Edward W. Beasley Child-Parent Center, Taylor addressed an adult audience.
He expressed his frustrations towards the lack of information surrounding African-American contributions to U.S. history.
Taylor recalled teaching students at the University of Illinois in 1948. He said after diligently searching through a textbook that would highlight African-Americans, he was only able to come across a single sentence.
"The U.S. History book at that time said nothing about black people," said Taylor. "I didn't see a damn thing except a sentence that said 'one of the problems of the Civil War was negro slavery."
Taylor said he believes little has changed with textbooks in the present day.
"We only have one paragraph about the Tuskegee Airmen in those textbooks," he said. "It's like they don't know anything about us [African-Americans] before Martin Luther King Jr."
Melvin Knazze, board member of the Chicago-Dodo chapter of the Tuskegee Airmen, agreed with Taylor.
He told the audience at the museum, "It's sad that people are under the impression that nothing happened with black people between slavery and the Civil Rights Movement."
Knazze served in the U.S. Navy and said that he was able to live out all of his dreams growing up.
"When I grew up, I didn't have anyone who looked like me to look up to in aviation, said Knazze. "Thats why it's important to for children to know the history of the Tuskegee Airmen."
The museums' vice president, Pia Montes, decided to reach out to the airmen to give children a sense of inspiration. Because of the recent release of the film, Red Tails, she thought it would be a great idea to have real Tuskegee Airmen speak at the museum.
"Many of the children have seen the film with their parents so I thought it would be a great idea to provide them with an opportunity to see them in person," said Montes. "To have the first African-American military airmen visit the first African-American children's museum really made an impression on the children for Black History Month."
Sheba Cresswell, an instructor at Beasley, was proud that her students were afforded the opportunity to meet the airman.
"It was amazing for the children to see living history," said Cresswell. "This was my first time meeting a Tuskegee Airman, so I learned a lot of information as well."
Spreading the knowledge of African-American achievements is one of the main missions of the Bronzesville Children's Museum. Peggy Montes, founder, strives to fill in the gaps that are missing from the curriculum at schools.
When asked about how he felt about his visit to the museum, Taylor said that he hoped that he made an impact on the children and how they feel about themselves.
"Everyone needs to see 'Red Tails' and learn more on their own about the accomplishments of African-Americans, he said.
The Bronzeville Childrens Museum is the first and only African-American children's museum in the country. It was founded in 1993 by educator Peggy A. Montes, a civic, cultural, and women's rights activist, who saw the need for a children friendly museum. The museum is designed to educate children about the contributions and culture of African-Americans through interactive exhibits.
SOURCE: Bronzeville Childrens Museum