Whitney Houston: The Queen of Pop Remembered
citizen | 2/14/2012, 5:14 p.m.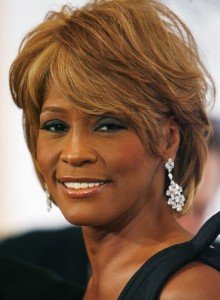 While the music world is still reeling from the recent deaths of Don Cornelius and Etta James, the industry received another shocking blow on February 11, 2012.
The news of Whitney Houstons death spread quickly across the globe; ironically on the eve of the televised Grammy music awards show where Houston was scheduled to make a highly anticipated appearance.
Houston was found dead in the bath tub inside the Beverly Hilton hotel where she was staying during Grammy weekend. The fallen star was planning to attend a pre-Grammy party at the hotel which was being thrown by Sony Music Entertainment executive Clive Davis. Davis reportedly discovered Houstons talent.
Whitney Elizabeth Houston was born August 9, 1963 in Newark, NJ to Cissy and John Houston. She was the youngest of the couples three children and had two older brothers.
The songstress, who for nearly 30 years, provided life soundtracks to three generations, was constantly surrounded by music growing up.
Houstons mother Cissy is a renowned gospel singer who has also sang background for several legendary artists including Aretha Franklin and Elvis Presley. Franklin is Houstons godmother and the celebrated singer Dionne Warwick is her cousin.
Houston found her voice while singing in her church choir as a child, notably in 1974, when she began performing as a soloist in the junior gospel choir at New Hope Baptist Church in Newark. Even then, the power and influence of her young voice amazed and floored the churchs congregation.
Houston was remembered by New Hopes pastor, Joe A. Carter during its Sunday morning worship service, the day after the tragic news of the singers death spread.
"Our hearts are broken," Carter said. "How saddened we are at the death of one of the greatest voices of the modern age."
Other reports cite that Houston, who was affectionately called Nippy by those close to her, is remembered by her family and childhood friends as being destined for greatness.
Toni Gregory, a childhood friend of Houston told a local Newark newspaper that as kids she and Houston dressed up and sang songs to an imaginary audience.
But not soon after Houstons teenaged years, she soared to superstar status, wowing the world with her break out hits, You Give Good Love and Saving All My Love for You. The rest was history.
In 1992, Houston married R&B singer Bobby Brown, who was once part of the well-known singing group New Edition. The following year Houston gave birth to the couples only child together, Bobbi Kristina.
Bobbi Kristina was hospitalized twice after hearing about and trying to cope with the reality of her mothers death. According to news reports she was treated for stress and anxiety.
Students at Houstons childhood school in New Jersey remembered her this past Monday by holding a small procession to her former home, according to NBC New York.
The school is located in East Orange, NJ and has been renamed to Whitney E. Houston Academy of Performing Arts.
The students released a bouquet of white balloons as Houstons famous song Greatest Love of All was played in the background music.