Bernie Mac To Be Honored In Englewood
citizen | 2/9/2012, 5:17 p.m.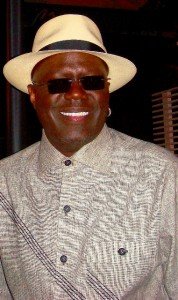 The late comedian and Chicago native Bernie Mac will be honored with a street sign dedication ceremony in the Englewood neighborhood on Feb. 28.
Bernie Mac grew up on 69th and Morgan Ave. Thats where he came from and he was proud of that, Rhonda McCullough, Bernie Macs widow, recently told the Chicago Citizen.
The street sign dedication was approved by the Chicago City Council in mid-January and McCullough wants community members, fans, and supporters to come out and help pay tribute to her husband.
Just come on out and be a part of it. Its a free public event, she said.
McCullough and Bernie Mac met as teenagers at Chicago Vocational High School. They have one daughter, JeNiece.
We met in high school. I went on his prom and he went on my prom, McCullough said happily.
McCullough is also the president/chief executive officer of the Bernie Mac Foundation. The foundations main mission is to raise awareness about sarcoidosis, a many times fatal disease that Bernie Mac suffered from. The disease causes inflammation in the lymph nodes, lungs, liver, eyes, skin, or other tissues and the condition is most common in African Americans.
The idea for a street sign bearing Bernie Macs name was a collective agreement from his family and the foundation.
The family and the foundation thought about what a great inspiration he was and how funny he was and of course being the icon that he was hes from Chicago so why not? He deserves that honor, McCullough said.
Bernie Mac worked several jobs before his career as a comedian took off including being a restaurant manager and truck driver. The funnymans claim to fame came in 1990 when he won first place in the Miller Lite Comedy Search.
McCullough said she believes Bernie Mac left a legacy and will be remembered for his comedic ingenuity. She said he also leaves an indelible mark on Black History.
His comedy, his storytelling and just the laugher he brought to African Americans. What better way for us to forget about everything thats going on in our lives to have a good laugh about something, she said.
Bernie Mac was born Bernard Jeffery McCullough on October 5, 1957. He died of pneumonia, a predisposition to sarcoidosis, on Aug. 9, 2008. Prior to his death, Mac retired from stand-up comedy to focus solely on acting and producing.
Bernie Mac and McCullogh had been married for 30 years at the time of his passing.
The exact location of the street sign dedication had not been established. For more information on the event and the Bernie Mac Foundation please visit www.berniemacfoundation.org.
Sources: U.S. National Library of Medicine, Bernie Mac Foundationby Thelma SardinTwitter: @thelmasardin