Seasonal Looks: A Leg Up On Fashion
citizen | 9/27/2011, 2:10 p.m.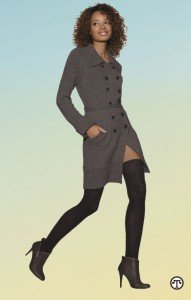 Must-have wardrobe essentials this season include pencil skirts, dresses and winter shorts, so the must-have accessory is legwear.
Legwear is an integral part of any trend-right ensemble and great for adding that finishing touch. The two most important fashion trends are Vintage Glamour and Simple Layering.
Vintage Glamour
Fashion welcomes back a sense of glamourlayers of sheer and lace mix with modern details to create a new femininity. Traditional luxuries are matched with modernized classics. Sumptuous fabrics and rich jacquards create a sense of savoir faire. Classic nets, thigh highs and beautifully sheer hosiery add a touch of elegant sophistication that can make any woman feel like true royalty.
Simple Layering
Sportswear separates reflect cleaned-up classics with a menswear influence for a new sophisticated yet casual trend that is polished and pulled together. Taking a cue from sweaters, tights provide color and comfort in a variety of opacities and textures and continue to be a wardrobe staple. Seasonless sheer tights provide the right balance between sheer and opaque. The newest look from runway to reality is the blackout tight, a soft, sleek black tight with maximum coverage. Tights can make any outfit chic and modern; theyre a true showstopper. NAPSI