White House Rejects Bid for Marcus Garvey Posthumous Pardon
citizen | 9/12/2011, 8:30 p.m.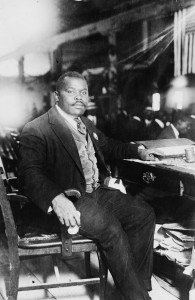 By Tony Best Special to the NNPA from the New York Carib News
A bid to secure a posthumous presidential pardon for Marcus Mosiah Garvey, Jamaicas first national hero, has been rejected out of hand by the Barack Obama White House in Washington.
But the Administrations rejection is unlikely to end the campaign in and out of the United States, Jamaica and elsewhere to clear the name of the iconic figure.
Garvey, who led the greatest mass movement of Blacks in the United States in the first half of the 20th century and is often credited by historians and other experts with promoting the economic, social and political interests of the ordinary Black person as no other had been able to do for more than half a century, had a following that ran into the millions in the Western Hemisphere. He was convicted in U.S. federal court in the 1920s of mail fraud involving $25 and was incarcerated for almost three years before he was released and deported to Jamaica. He died in London in 1940 and was initially buried there but his remains were exhumed from Kensal Green Cemetery in 1964 and returned to Jamaica where they were re-interred at National Heroes Park in Kingston.
In a letter to Donovan Parker, a Jamaican attorney in Florida, who has been writing to the U.S. President every week requesting clemency, Ronald Rogers, White House pardon attorney, stated that the limited resources of the Justice Department would be better spent on other requests for presidential clemency.
In a letter to the White House, Parker described Garvey as a leading forbearer of the African-American civil rights experience.
He said that it is full time that this extra-ordinary human being of humble beginnings and strong moral character be pardoned by the pen of an American President. It would be fitting if both you, Mr. President, and the first lady visit Jamaica for the purpose of signing the executive order pardoning Marcus Mosiah Garvey.
After receiving the White House rejection, Parker said that he disappointed and urged Pamela Bridgewater, U.S. Ambassador in Jamaica, to join in the call for the pardon.
I believe there has been no coordinated effort to get this issue in front of the President, Parker said. I think if President Obama reads it (the request), he will sign it.