Texas Rangers Manager Helping Lure African Americans Back To The National Pastime
citizen | 10/31/2011, 11:34 a.m.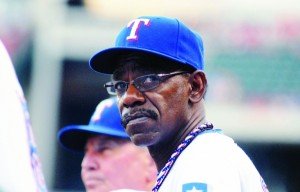 While it may be a little farfetched to say that Rangers manager Ron Washington is singlehandedly luring a new large mass of African Americans to following baseball, it may not be that far off.
Washingtons passionate and extremely effective leadership has caught the attention of many from the Black community who may not have followed baseball in the past, or sports overall, for that matter.
For me, I always liked baseball but I never paid much attention to the Rangers until Ron Washington became coach, said Jocelyn Medlock-Price.
I have had much respect on how the Rangers have given Mr. Washington the great opportunity within the Rangers organization. His back story, along with some of the other players living testimonies, reminds me that your life off the field is just as important as your life on the field, said Tamara Johnson.
Such statistics are not necessarily conducted, but the naked eye may indicate that more African American families can be seen at Rangers home game, complete with the wearing of franchise paraphernalia. That draws some similarities to when the legendary Jackie Robinson decimated segregation in 1947, causing Blacks to flood the baseball parks.
Tafuta Bakai, network analyst for J.C. Penneys, was seen proudly in Texas Rangers garb while helping organize an Urban League Young Professional business conference at his headquarters. He credits Washington.
Ive been hearing more brothers calling all the sports radio show about the state of baseball. This organization (Rangers) has ascended to this level because of what Ron Washington has brought to this city, Bakai said. It has been tremendous.
Bakai spoke about a close friend whos sending his six-year old son to a camp with D-Bat, a nationwide baseball and softball training facility.
Ron Washington is the reason why hes going to send his son to the camp, Bakai said. Hes made an impact not only in the African American community but now its crossed racial lines.
Major League Baseball officials surely hope this can represent a turnaround in Blacks interest in the game. According to Richard Lapchick's Institute for Diversity and Ethics in Sports, at the University of Central Florida, the percentage of Black American baseball players in the major leagues dipped to 8.5 percent this year, down from 9.1 percent in 2010 and less than half than the 19 percent in 1995.
The percentage of Latino players also dropped slightly, but held at a relatively healthy 27 percent.
"This has been a concern of Major League Baseball and leaders in the African-American community," Lapchick said. "However, the 38.3 percent of players who are people of color also make the playing fields look more like America with its large Latino population."
Akiim DeShay said on this reporters Facebook page: In the 1980s 30 percent of MLB was Black. Now it's about eight percent. My seven-year old plays baseball in Irving and is one of only a few in the entire league. But the majority of boys youth football teams are all Black. Baseball is a hard sport to fall in love with as an adult.