Eleven South Side Churches Celebrate A Walk of Faith
citizen | 10/18/2011, 12:35 p.m.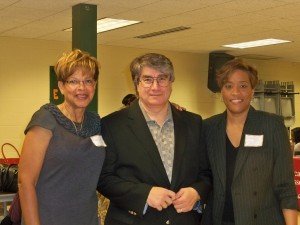 On Saturday, October 1st, strains of soulful praise, in the form of song, poetry and youthful violinists wafted delicatelythrough the rafters ofOakdale Covenant Church, spilling into the South Side neighborhood.
Gathered inside to celebrate the strides of A.C.T.S. OF F.A.I.T.H (Actions Connected to Spirituality, Forming Alliances in Transforming Health), a collaboration of South Side churches who work at the intersection of health and faith, wereover 200 members of the *11 founding churches, board members, family and friends. The event was emceed by Janet Sutton, a popular gospel radio hostess, but the understated star of the show was Dr. Dawnavan Davis, PhD, a young researcher who in January 2008, packed up her family and moved from North Carolina to Chicago with a passion for creating a model of Community Based Participatory Research (CBPR) that could attack health concerns among communities of faith.
CBPR varies from conventional research where those involved are subject to the terms of the researchers. In CBPR the participants are integral to the design, implementation and dissemination of the research findings. Moreover, because the participants bring their own experience, skills and networks into sharing the findings, the hope is that community empowerment and focused action can result in a decrease in some of the major health disparities that affect people of color.
Reverend Herbert Lassiter, A.C.T.S. OF F.A.I.T.H Board Member stated boldly, Nobody ever thought that churches would even be able to collaborate! However, that is exactly what 11 small, medium and mega churches have done over the past three and one-half years under the patient and skillful facilitation of its accomplished founder.
With support from the University of Chicago and the National Institute of Health, her first task was to build, and in some cases repair, relationships between The University of Chicago and the South Side faith community. Next, the arduous task of convincing local pastors to provide consistent representation for the AOFs working group, that together would create the vision and mission for the group while serving as advisors for a congregational survey to identify the top health concerns.
The road has not been easy. During the first several months of meetings the representatives of the churches were excited about the work and wanted me to define the mission and vision, and to create the plan. I continually tossed the ball back into their courts. Once we began to build trust, and they became familiar with the CBPR model, things progressed fairly rapidly, says Davis.
During the celebration, when Davis rose to give a brief presentation of the research findings, she was greeted by thunderous applause.Her presentation, a brief overview of AOF, revealed that the over 1,000 persons surveyed across the congregations ranked the top 5 health concerns as obesity, diabetes, hypertension/heart disease, arthritis and stroke.Now the work, some of which has already begun, is to collectively and as individual communities of faith, address these concerns. The good thing is that we have data that shows where we need to focus, said Ms. Louester Petty, the Event Chairperson and St. Luke M.B. Church member.
"In 2010 A.C.T.S. OF F.A.I.T.H (AOF) formed its inaugural board and elected its current president, Rev. Jacqueline Triche Atkins, J.D. In 2011, AOF became a non-profit corporation in the State of Illinois. AOF owes much of its success to the hard work and leadership of its founding churches, and of course to their faith in its mission."
For information on how your congregation can become involved with AOF visit info@aofchicago.org or 773-245-3008.
Alphabetical listing of founding congregations: Blooming Rose Deliverance Church, Carter Temple Christian Methodist Episcopal Church, Faith Community of St. Sabina, Langley Avenue Church of God, Metropolitan Community Church, Mount Calvary Baptist Church, New Beginnings Church of Chicago, Oakdale Covenant Church, St. Luke Missionary Baptist Church, Salem Baptist Church of Chicago, Trinity United Church of Christ.
By Susan D. Peters