Rejuvenated Harper Court Development to Debut in Hyde Park in 2013
citizen | 11/30/2011, 12:30 p.m.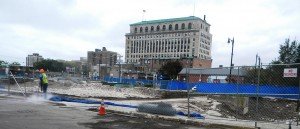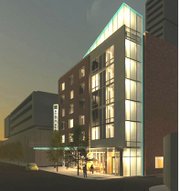 A rejuvenated Harper Court development will debut in Hyde Park in 2013, providing the community with an abundance of new job opportunities and new options for dining, entertainment and shopping -- and the University of Chicago with a major new office tower.
Last month, a joint venture between the project's local developer, Harper Court Partners, LLC, and Los Angeles based Canyon Johnson Urban Fund (CJUF) closed a $65 million construction loan with Citi Community Capital (CCC), a division of Citigroup.
The mixed-use project represents over $106 million of investment in the local area and collaboration between several public and private entities that provided equity, land and financing to bring a mix of commercial office, retail, residential and hospitality uses to a 3.3 acre site at the corner of 53rd Street and South Lake Park Avenue.
A new Hyatt Place hotel, designed by Legat Architects, will anchor the transportation-oriented development, which includes a retail center, apartments, and an office building to be occupied by The University of Chicago.
The University of Chicago is credited as the primary driver behind the project, seeking, in part, to enhance the retail environment along 53rd Street. Earlier this summer the University of Chicago executed a 150,000 square foot lease for the project's office tower, anticipated to be among the largest office leases signed in Chicago in 2011.
The build-out of Harper Court is projected to create 800 construction jobs, 350 permanent retail jobs, and 150 permanent hospitality jobs. Approximately 500 employees from the University of Chicago will work in the project's office tower upon completion and over 28% of qualified project costs will be performed by minority and women-owned businesses.
Construction of Harper Court is anticipated to finish in 2013.
Source: Citi , Legat Architects